MENDOCINO COUNTY, California — Cannabis has a rich history of medicinal use going back thousands of years. It is only in the last couple hundred years that the plant has faced restrictive laws and prohibition, particularly in the United States, where it's been classified as a Schedule I drug with no known medicinal benefits and a high rate of addiction since the Controlled Substances Act was passed in 1970.
Yet the tides of public sentiment are turning. A 2014 survey from the Pew Research Center revealed that 52 percent of Americans support legalizing the use of cannabis. The figure remained unchanged from 2013, which marked the first time in four decades that a majority of Americans have favored legalization.
As of 2015, 23 states and the District of Columbia have passed laws which allow for medicinal cannabis use, while Alaska, Colorado, Oregon and Washington have approved laws for taxing and regulating cannabis. Twenty other states have effectively decriminalized cannabis by removing criminal penalties for the possession of small amounts of the plant.
To investigate the claims of both the cannabis-friendly crowd and the claims of the U.S. government, MintPress News met up with filmmaker Danny Panzella, who is filming a documentary titled, "Does Pot Cure Cancer?"
"When my mother was going through chemo for breast cancer it became obvious that the chemo was killing her. I started to do research about alternative, holistic approaches," Panzella told MintPress. "I discovered the research about how cannabis treats cancer by accident and was blown away by what has been discovered in the past 30 years that even most doctors aren't aware of."
Equipped with this research, Panzella set out to make an informative film that would help cancer patients make educated decisions about what type of treatment to pursue.
He has been traveling throughout the United States for the past two years, interviewing the leading experts in cannabis research and other high-profile members of this broad community. MintPress caught up with Panzella in Southern California, and joined him on a trip to Mendocino County — part of the area known as "the Emerald Triangle" for the abundance of cannabis cultivation — to interview cannabis growers, business owners, doctors, researchers, and patients to examine the evidence for treating cancer, epilepsy and other debilitating ailments, using oil derived from cannabis, as well as smoking and juicing cannabis.
In 1996, California passed Proposition 215, also known as the Compassionate Use Act, which allows patients with a valid doctor's recommendation to possess and cultivate cannabis for personal medical use. This has since sparked a movement of people seeking to escape persecution, and prosecution, for choosing to self-medicate with cannabis products.
With cannabis use and possession still outlawed on the federal level, as well as in many states, contributing to the country's massive prison population, "cannabis refugees" are uprooting their families and heading to cannabis-friendly locales like California, where they can partake in the substance — either for medical or recreational purposes — without worrying about interference from local police.
'We have seen a drastic reduction in seizure activity'
Aubrie Hill has suffered from regular, extremely painful seizures stemming from epilepsy since she was 5 years old. When standard medicines failed, medical professionals in her home state of Alabama suggested brain surgery as a remedy. She underwent two such surgeries, which ultimately led to partial blindness and loss of memory and cognitive function.
Hill, 20, and her mom describe constant hospital visits and battling seizures while still in Alabama. "She was in and out of the hospital. It wasn't until we were legally able to get the oil that it made a difference," Vicki Hill told MintPress.
She also described feeling judged and misunderstood within the family's church community as Aubrie turned to cannabis.
"I tried to everything I could while in Alabama, but now that we are here [in California] it's much better and we have a support system," Vicki said. "You can't ask questions in Alabama. They are unable to share the research."
In April 2014 Alabama passed State Bill 174, commonly known as "Carly's Law," which only allows board-certified neurologists at the University of Alabama at Birmingham to provide cannabidiol (CBD) oil to patients with debilitating or life-threatening seizures as part of a clinical study. There is no application process to become a patient, and patients only started receiving the "experimental treatment" oil in April of this year.
Aubrie and Vicki moved to California in August, leaving behind their family in Alabama and embracing Aubrie's new treatment options in Northern California.
"It took us two years to get here," Vicki said. "We are here in California now and Aubrie has been on the oil since we got here and we have seen a drastic reduction in seizure activity."
Aubrie takes two doses of CBD oil each day, and another dose whenever she feels a seizure coming on. She now reports only one seizure a week.
'It's something that is very real'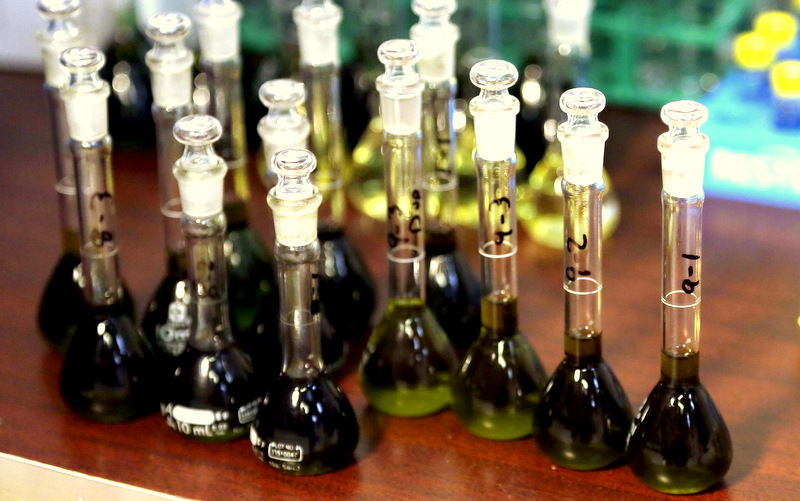 As a former law enforcement officer in Southern California, Howard Wendel spent years locking people up for possession of cannabis. These days, though, he's more likely to be found traipsing around a cannabis garden while discussing plant nutrients and growth cycles with his adult son, Skylar, and Skylar's friend, Luke, who asked that his last name not be used.
"Back in 2006 I started looking at this a little more aggressively, as an individual who was completely ignorant to what it was we were throwing people in jail for," Howard told MintPress. "I didn't understand it, wasn't educated about it. The stigma that surrounds this beautiful culture is unfortunate, but it's helping people and those who are being helped are now finding a voice and making themselves known."
Howard, Skylar and Luke help patients like Aubrie obtain the medicine they desperately need. Luke and Skylar maintain two large outdoor cannabis gardens, and Skylar creates a medical-grade CBD oil free of pollutants. Howard acts as the mediator between the patients and the final product.
"Being educated about the plant has totally curved my outlook. It's something that is very real," Howard said. "It's helping thousands of kids around the world. We personally take care of a lot of kids that are affected with epilepsy."
Aubrie's experience echoes that of another young woman — Charlotte Figi. Charlotte is best known as the face of "Weed," the 2013 documentary that highlighted the success of using cannabis to reduce the seizures she experienced as the result of Dravet Syndrome, a rare and severe form of epilepsy that begins in infancy. The successful treatments have even led to the creation of a strain of cannabis which is low in tetrahydrocannabinol (THC), the most prominent cannabinoid and the one responsible for the plant's psychoactive effects, and cannabidiol (CBD). Known as "Charlotte's Web," the strain is being used to treat patients around the country.
Aubrie and Vicki Hill are currently working with Howard, Luke and Skylar to develop their own strain of cannabis oil.
Can 'extremely exciting' pass a bureaucratic stonewall?
According to the National Cancer Institute, cannabinoids "activate specific receptors found throughout the body to produce pharmacologic effects, particularly in the central nervous system and the immune system." And the government agency admits that cannabinoids "may have benefits" in the treatment of cancer-related side effects.
A 2014 study published in the Molecular Cancer Therapeutics journal found that the two most common cannabinoids, THC and CBD, may do more than treat cancer-related side effects — they can inhibit the growth of cancer cells.
The study, conducted by a team of scientists at St. George's University of London, showed that tumors growing in the brains of mice were slowed down when THC and CBD were used in combination with irradiation. Dr. Wai Liu, Senior Research Fellow and lead researcher on the project, called the results "extremely exciting."
"Those treated with both irradiation and the cannabinoids saw the most beneficial results and a drastic reduction in size. In some cases, the tumours effectively disappeared in the animals," said Dr. Liu. The team is now looking at the possibility of studying the effects of a combination treatment of cannabinoids and irradiation in a human clinical trial.
Despite both anecdotal and scientific evidence of the effectiveness of treating a range of conditions and their side effects with cannabis, not all health professionals are prepared to recommend the plant or its derivatives as a cure for cancer and other life-threatening illnesses.
Dr. Donald Abrams, a cancer and integrative medicine specialist at the University of California San Francisco's Osher Center for Integrative Medicine, has completed research in complementary and alternative therapies, including the medical use of cannabis. Abrams cautioned against cannabis oil being the centerpiece of a cancer treatment plan.
"One of the biggest heartaches I have is patients coming to see me only to talk to about cannabis or cannabis oil as a cancer treatment," Abrams told MintPress.
While Dr. Abrams said he supports alternative and integrative medicines, the burden of proof lies with those claiming to cure cancer with oil derived from cannabinoids:
"If I say I am going to give you a new chemo therapy for your cancer and it's going to make your hair fall out, you're going to vomit for three days, and your bone marrow is going to be suppressed — I should have good evidence it works. If I am going to tell you to eat more blueberries or to get a massage twice a month, how much harm is that going to do? And how much evidence do I need to generate that that's beneficial? I would put cannabis oil somewhere between those two extremes of the spectrum."
Even still Abrams said that "75 percent of physicians are in favor of medicinal cannabis, oncologists being the largest group, at 82 percent percent." He was also involved in a recent study which concluded: "Cannabinoids may be of benefit in the treatment of cancer-related pain, possibly synergistic with opioid analgesics."
The study's abstract further noted: "Cannabinoids have been shown to be of benefit in the treatment of HIV-related peripheral neuropathy, suggesting that they may be worthy of study in patients with other neuropathic symptoms."
Despite the claims of the National Cancer Institute and a growing catalogue of research demonstrating medicinal benefits, the U.S. government claims that cannabis has no medicinal value. In a 2014 report, journalist Ben Swann pointed out the hypocrisy of the U.S. government maintaining this stance while simultaneously holding a patent on cannabinoids for medicinal use:
"According to our government, it has no medicinal use whatsoever and has a high potential for abuse. Does our government really believe that? No. In 1999, the U.S. Department of Health and Human Services, HHS, filed for this patent for the use of cannabinoids for medicinal purposes.

Also, in 1999, they filed for a second patent, specifically for cannabis oil for the treatment of disease.
That's right: Our government through the taxpayer-funded Department of Health and Human Services holds two patents on cannabinoids and cannabis oil to treat certain diseases like Alzheimer's and autoimmune diseases like Crohn's disease."
The government granted itself U.S. Patent 6630507 in October of 2003. Yet, as Swann noted, the U.S. government continues to spend millions of dollars each year to arrest individuals who use cannabis medicinally and recreationally.
"In public, they claim cannabis oil is not medicine," Swann explained. "And in private, they seek to own the rights to that medicine."