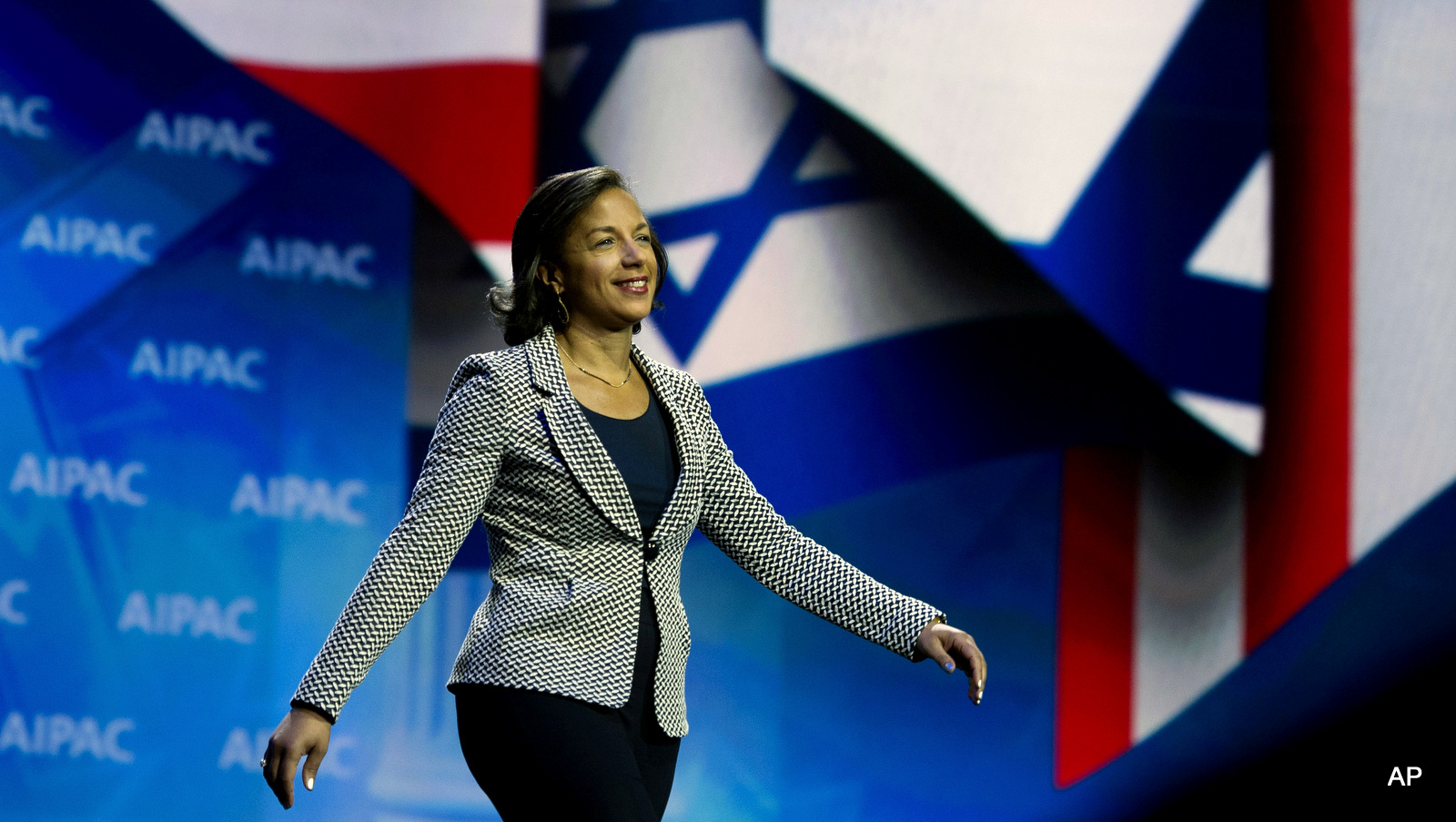 U.S. National Security Adviser Susan Rice promised Israel on Monday that the new military aid agreement between the two nations that is currently being negotiated will constitute "the single largest military assistance package — with any country — in American history."
Addressing the American Jewish Committee Global Forum in Washington, Rice said the new decade-long aid package, which is expected to provide Israel somewhere between $37.5 billion and $40 billion over the life of the pact, will "constitute a significant increase in support," providing funding to update Israel's aircraft fleet and strengthen missile defenses.
Hinting at the polarized views on Israeli policy among the U.S. presidential candidates, Rice said that "Israel's security isn't a Democratic interest or a Republican interest—it's an enduring American interest." At the same time, Rice lashed out at Israel's settlement activity, saying that the only road to "sustainable security for Israel and to dignity and self-determination for the Palestinians is two states for two peoples."
"Just as we oppose counterproductive Palestinian actions and strongly condemn incitement and violence, settlement activity corrodes the prospects for two states," she said. "It moves Israel toward a one-state reality."
However, she also cited the occasions when the Obama administration opposed bids by the Palestinians and others to impose a solution through the United Nations, and said that policy would hold. "When the Palestinians tried to short circuit the path to statehood, President Obama said peace will not come through resolutions at the United Nations," she added. Rice also strongly condemned the wave of stabbing attacks that began in Israel in October and among whose victims were two Americans who were killed.
"When Hamas digs tunnels so they can kidnap and kill Israelis Israel is not alone, when one country is singled out time and time again on the floor of the United Nations Israel is not alone, when angry forces attack Israel's right to exist Israel is not alone," Rice said.
"And when Palestinians are attacked by mobs shouting 'Death to Arabs,' when Palestinians' mosques and churches are vandalized, the Palestinian people are not alone."
Earlier Monday, Rice told the Forward that U.S. Secretary of State John Kerry attended a conference last week on Israeli-Palestinian peace called by the French government in order to moderate its message. "Secretary Kerry participated because we are very much of the view that this very delicate issue has to be handled effectively and we can't see efforts that might, in fact, complicate the situation on the ground be allowed to generate distraction — or worse, renewed or intensified frictions," Rice said.
Israel's government had strongly objected to the Paris conference. The conference's concluding statement last week was more moderate Israel expected, reportedly because of Kerry's intervention.