BRUSSELS —  The neoconservative-backed news rating upstart "Newsguard" is now lobbying the European Union to "force the hand" of major U.S.-based tech companies — including Facebook, Google, and Twitter — to integrate its controversial ratings system into the world's most popular social media platforms and search engines, according to a recent statement made by Newsguard co-CEO Steven Brill during a Tuesday event on "countering online disinformation" hosted by the EU in Brussels.
Brill also announced during his Brussels speech that Newsguard will be fully operational in four EU countries — U.K., Italy, France and Germany — by this April and is hoping to partner with EU-connected and EU-funded fact-checking organizations in order to increase Newsguard's profits and influence as well as the likelihood of its adoption by major tech companies. Many of those companies have apparently gotten cold feet after concerns were raised about Newsguard's browser plug-in collecting location and browsing-history information on its users, a practice discovered by independent tech experts who examined the code behind the plug-in. This undisclosed collection of user information was publicly denied by Newsguard despite it clearly being in the code of the plug-in itself.
Newsguard — whose connections to prominent neoconservatives, former government and intelligence officials and powerful PR firms were the subject of a recent MintPress exposé that went viral — has apparently shifted its hopes overseas following domestic backlash within the United States, triggered by critical reporting on the group. Brill, during his brief speech at the EU event on Tuesday, claimed that news sites that have recently criticized Newsguard's motives — MintPress among them — are "secretly supported" by the Russian government, a claim for which he provided no evidence.
Another consequence of the growing domestic backlash, as evidenced by Brill's appearance and the content of his speech in Brussels on Tuesday, is that Newsguard is now seeking to partner with the EU bureaucracy in order to pressure social media and other tech companies to pay Newsguard a hefty licensing fee for use of its "nonpartisan" ranking system.
This would not only ensure a steady stream of income for Brill and Newsguard's other CEO, Louis Gordon Crovitz, but would also ensure the success of Newsguard's ultimate ambitions of becoming an involuntary part of the internet browsing experience for citizens of the United States, the Europe Union and beyond.
An unexpectedly uphill battle for the giants' blessing
As MintPress reported earlier this month, Newsguard aims to soon be "running by default on our computers and phones whenever we scan the Web for news" and has been in talks with "online titans" for several months, having already teamed up with Microsoft. Newsguard's Microsoft partnership is credited with the ranking system, now available only as a browser plug-in, being pushed onto public library systems and even universities throughout the United States.
Newsguard has since used a series of interviews with mainstream outlets (all of which have received high ratings from the company) to promote its "popularity" by citing a Gallup poll that found that "89% of users of social media sites and 83% overall want social media sites and search engines to integrate NewsGuard ratings and reviews into their news feeds and search results." However, few of the outlets that reported on the poll and Newsguard disclosed that Newsguard itself and one of its top investors funded the poll, that participants were paid to answer questions, and that the poll's findings "may not be reflective of attitudes of the broader U.S adult population."
Despite that, for whatever reason, there remains some resistance from social media giants to adopting Newsguard. Such a response was unexpected by the company's CEOs Brill and Crovitz, however, given that both — when they announced Newsguard's formation and raising of $6 million in seed funding last March — stated in several interviews that they anticipated near-immediate offers from major tech companies.
For instance, an interview with Business Insider, Crovitz (who is also a board member of Business Insider) had stated that they expected at least one of "the big tech platforms to sign on as a paying customer in a couple of months," while Brill was quoted in the same article as stating that "We would not have gone forward [with Newsguard]" without at least some interest from these very platforms. Several mainstream reports on Newsguard have noted that if it does not successfully partner with major social media platforms or search engine companies, it is likely to fail.
The tech companies lack of interest could be explained many ways. One possibility is that Newsguard has drawn criticism from big-name, high-traffic websites it has poorly rated, particularly among conservative outlets like the Daily Mail, Breitbart and the news aggregations site Drudge Report, which has resulted in a steady stream of negative reports about the operation since MintPress' original exposé was first published on January 9.
Such negative reporting has led to a bombardment of negative comments on Newsguard's Facebook posts and tweets, as well as low ratings for its browser plug-ins. Mozilla, Firefox's parent company, was recently accused of deleting many of the 1-star ratings for the plug-in, assumably at Newsguard's request.
In addition, Facebook's "third party fact-checking organization" since December 2016 — the Poynter Institute, itself controversial for being heavily funded by the Bill and Melinda Gates Foundation and the Open Society Foundations — has openly criticized Newsguard.
In a recent article on Newsguard published in Slate, Alexios Mantzarlis, head of the Poynter Institute's International Fact-Checking Network (IFCN), stated that — while he "appreciates" what Newsguard is trying to do — he found Newsguard's red-green rating system "reductive," adding that "it feels like one of those recipes where the ingredients all look right, but then you follow it closely and the result isn't great." Mantzarlis brought up the red rating given to Al Jazeera and the green rating given to Fox News as a glaring example of Newsguard's questionable rankings of news organizations.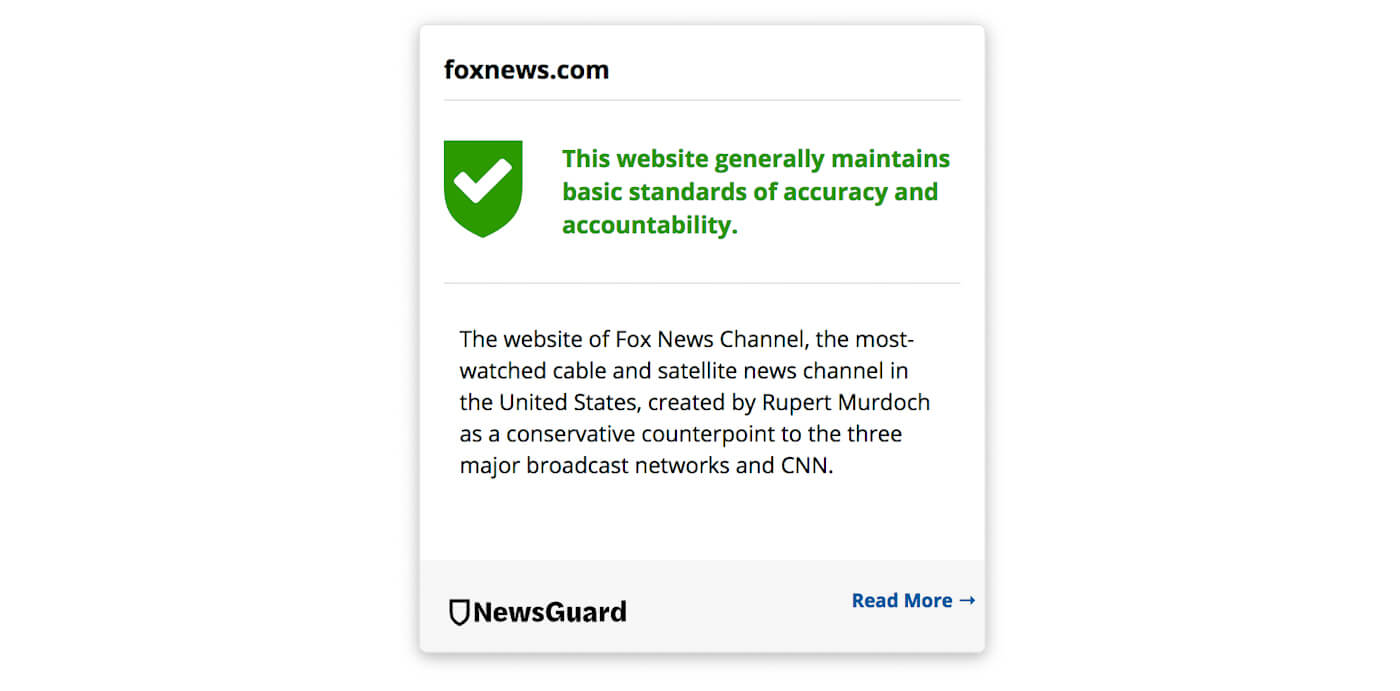 Furthermore, internet privacy activists have raised concerns about Newsguard's plug-in collecting and storing information on the browser history of its users, along with information on the device on which it is installed and geolocation information, among other data.
Though Newsguard has responded to such criticism by stating that it does not share or store the information it collects (the "Trust Us" response), privacy advocates have noted that collecting such information was a choice the company made, not a technical requirement for the stated purpose of the plug-in. It is worth noting that Newsguard's Crovitz has repeatedly defended illegal NSA surveillance — and the man who oversaw that surveillance operation for several years, former NSA and CIA director Michael Hayden, is on Newsguard's board of advisors.
These factors and others have led some prominent privacy activists and technologists, such as Mozilla co-founder and former CEO Brendan Eich, to call Newsguard "a bad operation all around." With prominent technologists like Eich and prominent fact-checkers like Mantzarlis lining up against Newsguard, the company's plans to integrate smoothly into social media aren't going as planned.
This is a bad operation all around.

— BrendanEich (@BrendanEich) January 18, 2019
Leveraging the EU
Brill and Crovitz are apparently growing uneasy that large U.S. tech companies are getting cold feet on incorporating Newsguard into their online products and paying Newsguard's hefty (yet undisclosed) licensing fee, given that licensing fees are the linchpin that would ensure the company's profitability.
Slate's recent article on Newsguard, published last Friday, admits as much. Will Oremus, Slate's senior technology writer, stated that "whether NewsGuard's shields become ubiquitous or a footnote in the history of online journalism will depend on the willingness of the large tech platforms to license its product." Oremus then goes on to note that Brill said during an interview that he is confident that "a European Union agreement, little-known stateside, might help to force their hand. Google, Facebook, Twitter, and Mozilla (maker of the Firefox browser) have all signed on this year to the European Commission's Code of Practice on Disinformation, which commits them to various measures to tackle false news on their platforms."
Oremus continues:
If it sounds like an empty bureaucratic gesture, well, it might be. But Brill and Crovitz are counting on it to have teeth, and they've been making regular trips [emphasis added] to Brussels to try to persuade these platforms that adopting NewsGuard is their best path toward satisfying the agreement. If this or other arguments fail to convince Big Tech, NewsGuard will fail too."
Indeed, Newsguard is undeniably looking to the EU to "force the hand" of uneasy tech companies in integrating — and licensing — Newsguard's ranking system. On Tuesday, Brill made yet another of his "regular trips" to Brussels, this time to participate in an EU-hosted conference titled "Countering online disinformation – Towards a more transparent, credible and diverse digital media ecosystem." Brill participated in a panel discussion with representatives from European fact-checking organizations, titled "How can the fact-checking community help ensure a fair public debate?"
https://twitter.com/FondEURACTIV/status/1090254345856319488
During his brief speech at the conference (link – speech begins around 5:38:30), Brill used many of the same talking points he has used domestically, touting Newsguard's ostensible nonpartisanship and "growing popularity" with consumers (yes, he cites only the same aforementioned Gallup poll as evidence).
However, a few minutes into his speech, Brill states the real reason for attending the conference:  
I am here to announce that by mid to the end of April, we expect to have hired enough native journalists and enough experienced editors and get the process going so that we will have launched in Italy, Germany, France and the U.K. and will have covered at least 90 percent [of the most visited news websites in those countries]."
In other words, Newsguard Europe is soon to open its doors, showing that the company's global ambitions are speeding up sooner than many observers had expected.
As Newsguard has done in the U.S., Brill also noted that "we [Newsguard] are now talking to library systems here in Europe" and that Newsguard hoped to partner with "the fact checkers on this stage." The other fact-checking organizations on that panel included representatives from the Poynter Institute's IFCN, which, as previously mentioned, has recently criticized Newsguard's rating system; the European Broadcasting Union (EBU), the world's "largest community of public service [read government-funded] media organizations in the world," whose members include the BBC, France24 and Deutsche Welle; and the EU government- and Google-funded "disinformation observatory" SOMA.
It is currently unclear whether Newsguard has partnered with any of these organizations or is involved in talks to do so. However, Brill's stated desire to partner with fact-checkers supported by and also funded by the EU government shows that Newsguard Europe is interested in protecting establishment corporate and state-funded media outlets — much as it has in the United States, where Newsguard has targeted independent media sites, particularly those with an "anti-establishment" leaning.
Obviously not a first choice
Given Brill's recent announcement and his recent statements regarding Newsguard's shift across the Atlantic, the question then becomes — will it work? Will Brill and Crovitz be able to use the EU's Code of Practice on Disinformation to pressure Google, Facebook, Twitter, and Mozilla — all of whom signed the code last fall — to follow in Microsoft's footsteps and adopt Newsguard?
On Tuesday, the European Commission commented on the initial reports by Google, Facebook, Twitter and Mozilla on their efforts "to fight fake news." In a statement, the commission wrote:
There has been some progress, notably in removing fake accounts and limiting the visibility of sites that promote disinformation. However, additional action is needed to ensure full transparency of political ads by the start of the campaign for the European elections in all EU Member States."
Those elections will take place in May.
As noted by Forbes, the commission will perform a comprehensive assessment at the end of 2019 and "should the results prove unsatisfactory … [the commission] may propose further actions, including of a regulatory nature." In other words, the commission is threatening tech companies with government regulation if the results of their efforts to fight "fake news" are considered "unsatisfactory" by EU bureaucrats.
If Newsguard is able to partner with groups that are EU-connected and funded like the EBU and SOMA, that conflict of interest alone could be enough to have Newsguard integration promoted by the EU as a "satisfactory" step towards meeting the requirements of the Code. In addition, Newsguard's ties to one of the largest advertising firms in the world, the French-based Publicis Groupe, could also help it win EU support.
Indeed, Brill showed a subsection of the Code that fits neatly with Newsguard's stated mission and its description of its own activities during his Tuesday speech. He highlighted the Code's Commitment 11.D "Empowering Consumers," which states:
Such transparency should reflect the importance of facilitating the assessment of content through indicators of the trustworthiness of content sources, media ownership and verified identity. These indicators should be based on objective criteria and endorsed by news media associations, in line with journalistic principles and processes."
Yet, despite EU threats and Brill's presentation to EU officials and tech company representatives on Tuesday, social media platforms like Facebook seem intent on resisting Newsguard. For example, Facebook, in an effort to pre-empt the commission's response to its efforts and the "disinformation" conference Tuesday, announced at a Monday press conference in Brussels that it plans to create an "independent content oversight board with the power to overturn company decisions on user posts," to be composed of 40 "technology and human rights experts free of commercial influences," who will be selected by Facebook for inaugural three-year terms.
Though it is doubtful that the EU will find Facebook's new "content oversight board" to be "satisfactory" over the course of the year, it shows that Facebook is willing to try all sorts of alternatives to Newsguard, despite Brill and Crovitz's heavy lobbying of the popular yet beleaguered social media platform.
Newsguard critics are all Kremlin mouthpieces?
Newsguard's ambitions seem to be hitting more roadblocks than expected in the U.S., leading the group to turn their attention to unelected EU bureaucrats and to cultivating alliances with establishment media organizations and fact-checkers in Europe in order to pressure U.S.-based tech companies to license its ranking system.
A clear factor in creating this scenario for Newsguard has been initial critical reporting from MintPress and other subsequent reports from various outlets such as RT and Breitbart. Brill, during his Tuesday speech, made his disdain for these reports clear and attempted to write off  all critical reporting on Newsguard as being "secretly supported" by the Russian government. During a short Q&A session following his speech on Tuesday, Brill briefly donned his tinfoil hat and lamented "this sustained attack we've been getting from RT and Sputnik for the last 10 days and all of the various websites that they kind of secretly support [emphasis added] in the United States."
RT's initial report on Newsguard cited MintPress as having broken the story, and Sputnik's coverage focused on MintPress' article as well as a radio interview the author of this article did with a Sputnik radio program a few days after the report had been published. As a consequence, Brill implied on Tuesday that MintPress is "secretly supported" by RT and Sputnik, a bold-face lie that had first been circulated in a January 15 report by Folio that had insinuated that MintPress was a "Kremlin-linked outlet." Folio was eventually forced make the following clarification after being contacted by MintPress Editor-in-Chief Mnar Muhawesh:
A social media headline on this story, mentioning "Russian-linked news media," was a reference to RT and Sputnik News. MintPress News is an independent, Minnesota-based news outlet."
Newsguard and the establishment media it seeks to protect have now made it clear that not only are they unconcerned with the actual opinions of U.S. adults regarding their platform and ranking system, they are also willing to smear any news outlet that points out their numerous conflicts of interest and troubling ambitions as "Kremlin-linked." The only "evidence" for that smear is absurdly based on the fact that RT and Sputnik have reported on the topic. The hypocrisy is glaring given that RT and Sputnik both regularly write articles based off of stories that were first published by establishment, "green-rated" U.S. outlets; yet, those outlets are not implied as receiving "secret support" from the Russian government by association.
The absurdity of these smears, along with Newsguard's push to hammer out a deal with EU bureaucracy over the heads of tech companies and global internet users, show growing concern among Newsguard executives and their investors that their project could fail despite their best efforts. Indeed, if they have already resorted to deleting poor reviews for their browser plug-in, it certainly — as one FireFox user noted — "seems like a desperate move."
Top Photo | L. Gordon Crovitz, then-publisher of The Wall Street Journal, introduces the redesign of the newspaper, Dec. 4, 2006 in New York. Mark Lennihan | AP
Whitney Webb is a staff writer for MintPress News and a contributor to Ben Swann's Truth in Media. Her work has appeared on Global Research, the Ron Paul Institute and 21st Century Wire, among others. She has also made radio and TV appearances on RT and Sputnik. She currently lives with her family in southern Chile.