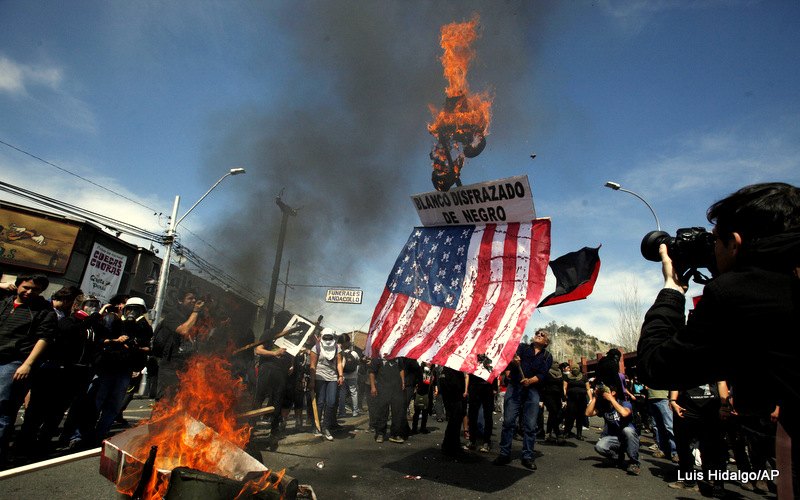 Memory loss in Chile, or oblivion, has ensured that a multitude of crimes committed during the dictatorship era remain unchallenged. Consequently, Chilean society remains shackled within a paradox of alleged democracy and impunity. Torture survivors find themselves living alongside torturers and murderers — many of whom hold influential positions in government and other respected practices.
The trend is set to change for one former Direccion de Inteligencia Nacional (the National Intelligence Directorate or DINA) agent and torture instructor who has evaded justice for decades. Cristián Labbé — lieutenant and torture instructor from the Tejas Verdes brigade, and later, the Mayor of Providencia — has been implicated in dictatorship crimes through the testimony of Harry Cohen Vera, a former detainee and torture survivor who encountered Labbé and his brutal tactics in November 1973.
Early reports in Chilean media state that Labbé was indicted in the Valdivia Court of Appeals by Minister Juan Ignacio Correa for crimes committed in Futrono in 1973. Predictably, the former DINA agent has denied ever participating in "illegal practices" during Augusto Pinochet's dictatorship (1973-1990).
Cambio 21 has released a detailed account of the events disclosed so far. While travelling from Santiago to Futrono on Nov. 7, 1973, Harry Cohen Vera was kidnapped, detained, and tortured by the military. The military made unfounded accusations that Cohen was a "terrorist," even though he was not affiliated to any socialist militant parties which, under Pinochet's dictatorship, were all deemed dangerous. Cohen had been harassed by the military on other occasions. This time, however, soldiers surrounded and forcibly entered the Cohen family home in Futrono, before taking him and another family member for interrogation.
Cohen was transferred by helicopter with other detainees — Leonardo Santibáñez, Juan Rosales and Jaime Rozas. The soldiers accompanying them threatened horrific violence during the trip, including throwing them off the helicopters as they passed over the Riñihue River. Cohen encountered Labbé during the torture sessions.
"I will never forget that face, the voice, that arrogance …The torture I suffered was senseless — questions about what my family and I were doing were punctuated with electric shocks that were increased if my answer was deemed unsatisfactory," Cohen was quoted as saying to Cambio 21.
Other former detainees, including Rozas, have testified with regard to Labbé's identity and presence during torture sessions.
Labbé's denial is reminiscent of other responses given to accusations of crimes committed during the dictatorship era: "I deny having been in Futrono and Valdivia in the indicated dates. In addition, I deny being part of a situation such as that described."
However, previous statements exhibit contradictions uttered by Labbé with regard to locations and dates in specified cases of torture. In another human rights violations-related case, testimony established Labbé's presence in Valdivia from October to November 1973. The manipulation of information, however, was a common phenomenon that has helped torturers and murderers to escape impunity through the falsification of dates and narratives in order to prevent accountability.
In this case, according to human rights lawyer Roberto Avila, "There are other conscripts who have not yet testified, but whose out of court testimony reaffirms our conclusions. It has been difficult for them to submit declarations, but they are willing to do so."
Of particular significance in this case, is the certainty with which human rights lawyers are declaring that the Punta Peuco prison awaits Labbé following the conclusion of this case.
Labbé's repugnant career
Labbé's repugnant career in DINA is replete with references to major human rights violations, as well as intrinsically connected to some of the most notorious torture and extermination centers and operations. The former DINA agent participated in the Caravan of Death massacres in Valdivia — a terror operation carried out throughout Chile in the aftermath of the dictatorship, in which 97 people were brutally tortured, mutilated, massacred, and buried in mass graves.
Once back in Santiago, Labbé was transferred to Rocas de Santo Domingo, where he began his role as torture instructor for new DINA recruits. Labbé also participated in torture sessions alongside other notorious DINA agents at the first torture and extermination center known as Tejas Verdes and others such as Venda Sexy, Londres 38, and Villa Grimaldi. Other duties included supervising security for DINA chief Manuel Contreras Sepúlveda and Pinochet.
During his stint as mayor of Providencia, Labbé also utilized his status to shelter other DINA criminals implicated in murder. A noteworthy case is that of DINA agent Sandoval Arancibia, also known as Pete el Negro. In 1973 Arancibia carried out the murder of the youngest victim of the dictatorship — a 14-year-old boy cowering in the streets after being cornered by DINA agents. The boy was shot in the head four times by Arancibia, then doused with gasoline. His body was burned and later clandestinely buried in a deserted area. His remains were exhumed by accident during an excavation west of Santiago in 2000.
Arancibia was also one of the agents who took part in Operación Retiro de Televisores in January 1979 — an order by Pinochet to illegally exhume the mass graves and dispose of human remains by other means, following the discovery of 15 peasants murdered by the dictatorship in Lonquén. Until 2007, Arancibia worked under the patronage of Labbé — evidence of the sinister network of complicity in which torturers aided and abetted each other.
Another outlet provided by Labbé for the promotion of torture as salvation occurred in November 2011, when homage to former torturer Miguel Krassnoff Martchenko was carried out under his patronage. Labbé organized a book launch for the 4th edition of Gisela Silva Encina's book, "Miguel Krassnoff: Prisionero Por Servir a Chile" ("Miguel Krassnoff: A prisoner for serving Chile"). The event was described by Labbé as an exercise in free speech, prompting protests from relatives of the disappeared and torture victims, and resulting in the use of force by police against those attempting to disrupt the protest. Krassnoff's name has cropped up in several cases pertaining to dictatorship crimes, particularly those related to the kidnapping, torture, and extermination of Movimiento de Izquierda Revolucionario (the Revolutionary Left Movement, or MIR) militants.
In his research, investigative reporter and author Javier Rebolledo discusses the existence of Brigada Mulchen. The brigade that functioned under the command of Labbé is relatively unknown, although it has been established that several clandestine operations were carried out by the organization, including the murder of Spanish diplomat Carmelo Soria in 1976.
Recognizing the horrors
As this Sept. 11 marks 41 years since the dictatorship collapsed, news of Labbé's possible impending imprisonment provides a sliver of overdue recognition of the horrors caused by dictatorship crimes. However, impunity and justice remain tightly intertwined. With a constitution reflective of the dictatorship era, Labbé has managed to not only evade accountability, but also minimize the counts of torture and murder to his name, making justice extremely elusive.
Ironically, last year, Labbé was offered a position as a lecturer at the Universidad Finis Terrae in Santiago on the subject of "the evolution of political thought in Chile." It seems as if political thought, at least within official circles, has stagnated, rather than evolved. Labbé's appointment serves as another example of the influence exerted by dictatorship collaborators at the institutional level.
Should the forthcoming investigation and verdict incriminate the former torture instructor, however, it must be remembered that only a fraction of the atrocities committed have been addressed. Hence, discussion regarding justice should be avoided in favor of the memory slogan, "ni perdon, ni olvido" – "neither forgiveness, nor oblivion."