RIO DE JANEIRO —  "I don't believe Brazil is made for change. Returning to my country, though I'd like to, is something that will take a long time, if it's ever possible one day."
The date was July 22, 2013. The blighted hope, part of a letter written by Wagner dos Santos, a survivor of the Candelaria Massacre in central Rio de Janeiro. Twenty years prior to the day, July 23, 1993, dos Santos bore witness to a night littered with as many bullet casings as there were kids forever lost to the so-called marvelous city.
Homeless, hungry, believing a car beside Candelaria Church had arrived to handout food, the children approached the vehicle. Armed gunmen — some of whom were off-duty and ex-policemen — emerged, firing multiple rounds. Eight youths, some in what should've been the playful flurry of childhood, were murdered – Paulo Roberto de Oliveira (11); Anderson de Oliveira Pereira (13); Marcelo Candido de Jesus (14); Valdevino Miguel de Almeida (14); "Gambazinho" (17); Leandro Santos da Conceicao (17); Paulo Jose da Silva (18); Marcos Antonio Alves da Silva (20). Many more were wounded.
"I sincerely hope the Brazilian authorities bring an end to the massacres that occur till this day," dos Santos, who had been shot four times in the incident, said. He was eventually placed under witness protection after suffering a second murder attempt at Brazil Central (Train) Station in 1994, and eventually relocated to Switzerland. "If this doesn't happen, it will be hard to keep saying that Brazil is a democracy."
Relapse (A Neo-European, or Euro-Wannabe, state)
July 23, 2018 marks the 25th anniversary of the Candelaria Massacre. We can say, with as much ease as if 25 or 250 years were just yesterday, that another ominous mark looms heavy over Rio's marvels, the same place where dos Santos once canvassed the streets. Rio de Janeiro city and state are over five months into a full-blown military intervention. While the operation began with 3,000 soldiers, in late June, a total of 5,400 soldiers conducted an operation in the Complexo do Chapadão neighborhoods. To be sure, it is an election year, always a useful pretext for such crackdowns.
While the political pretext for the takeover cited a need to bolster security, the Intervention Observatory details that the number of massacres in the state has increased two-fold since the soldiers arrived. Five young men of color – Savio de Oliveira (20), Matheus Bittencourt (18), Marco Jhonata (17), Matheus Barauna (16), and Patrick da Silva Diniz, all of whom organized community activities, including hip-hop classes — were fatally gunned down in Maricá, metropolitan Rio de Janeiro during this period. Caju cemetery is where Black activist and city councilwoman Marielle Franco was laid to rest, victim of a drive-by execution on March 14, less than a month into the military intervention. Late last month, helicopters strafed and blindados, or caveirão (tanks), bulldozed through Complexo da Maré, the favela where she was raised, firing high-powered rifles below and within during morning school hours. Fourteen-years-young Marcus Vinicius da Silva, donned in  Maria Eduarda, a 13-year old student, donned in school uniform, was killed.
Having been trained in urban war and equipped with modern military hardware, untold numbers of machine-gun toting troops stationed in Rio earlier served in Haiti as part of the 13-year-long (2004 – 2017) United Nations Stabilization Mission in Haiti (Minustah). While Nexo Jornal characterized the mission as a test "laboratory" in live operational conditions for an entire generation of Brazilian soldiers, one-year after the mission completed, Wellington Moreira Franco, the secretary-general of the presidency, noted  that the "spirit" of military mobilization, "this conversation, this methodology can spread throughout Brazil." Institutional Security Minister Sérgio Etchegoyen added that soldiers on the streets of Rio are the "outward manifestation of a structural crisis."
Brazil has resurfaced. Resentment has turned into wreckless mobilization — that is, a 13-year onset of social inclusion policies galvanized by former president Luiz Inácio Lula da Silva (2003 – 2011) and his successor Dilma Rousseff (2011 – 2016), both members of the Workers' Party, (PT) had riled the elites beyond compare.
The burden of losing four consecutive elections turned Brazil's elites inside out. They would resort to, as an efficient yet obvious mode of attack, all out lawfare, stirring their already agitated base along the way. Never to be underestimated, the movement's vanguard was abetted by a redoubled campaign of lies and insinuations courtesy of a decadent private media. One must not forget that this cheap brew was capable of eliciting — despite his already deficient knowledge in world affairs — "Does Brazil have blacks, too?" from former U.S. President George W. Bush during an official visit in 2002, to untold TV images of blue-eyed, blonde-haired protagonists of telenovelas (soap operas) so awkwardly endemic to a dark-skinned country.
Had my eyes deceived me on this public bus ride in any given city in Brazil? Or had I not seen a blonde woman take a seat in front of a black female passenger, her long hair draped over the seat into the row where the black woman sat. And she, the black woman, ever the smooth operator, so as to not arouse the blonde female's attention, palmed her coiffure in one hand and caressed it, as if stroking a golden fleece, with the other.
No. My eyes had not.
How, when, why a White State
Eduard Kremer, who was the drawer of a 1567 "world" map, introduced numerous distortions, thereby altering our notion of the world and its size: Africa, in Kremer's map, is smaller than Greenland. These maps, which incorporate the European's prejudice, are the maps we used at school when I was young and, I am afraid to say, are still being reprinted year after year and used in schools in Africa."

— Nuruddin Farah from page 229 of her book, Maps
All indications are that the resurgence of the white state — never forsaking its politically correct title, Brazil – comes with vengeance. It had gone nowhere. Laying in the cut, never cut off from its economic lifeline, it awaited its chance to intercept the levers of political power, proving both apt and worthy of its namesake. Moreover, não tem vergonha (it has no shame).
Operating as much in the shadows as in broad daylight, the pile-on delivered in October 2016. Their strategic aim: impeaching Dilma Rousseff, Brazil's first female president. Her government had, according to the Financial Times, employed arcane fiscal manoeuvres to … disguise a deficit in the public accounts. That is, payments to popular programs — such as Bolsa Familia, a monthly stipend paid to those still living below the poverty line, and Minha Casa, Minha Vida, a low-cost housing program — were fronted by public banks and financial institutions. Pedaladas (bicycling) it was called.
The practice, so routine among previous Brazilian presidents who never came within earshot of an impeachment hearing, merits no further consideration. But here was not only Brazil's first female head of state but someone who heeded the call to organized struggle against the 20-year (1964 – 1984) military dictatorship. For her daring act, she would linger in prison for three years and be tortured.
Dilma's ouster had more to do with timing and opportunity than any act of misbehavior while in office. The minority elites — their political reps crowding the halls of Congress only when work becomes the strictest of obligations; the white-state that markets black, multi-cultural Brazil as parody and smokescreen — saw in the moment a chance to strike. And strike they did. Once done with Dilma, the political and judicial lynch mob took aim at Lula.
Author and political commentator Laurez Cerqueira wrote:
Judges, prosecuting attorneys and policemen who prepared the case [against Lula] and condemned him are white. Indeed, the Brazilian state is predominantly white. This is not an irony of history. [Lula relinquished the country to being] incapable of freeing itself from its past shadow, from organized backwardness, from the prey mentality of colonial business practices and, instead, concocted a democratic, independent and sovereign Republic. It appears condemned to either banishment, or penumbra."
Cerqueira's resounding damnation of the "predominantly white" Brazilian state runs companion to what Somali author Nuruddin Farah calls the "cartography of violence" — world unexplored, untapped by European feet and hands, followed by erratic strokes of Euro-Christian mapping and policing. Sounds familiar? Why not try slipping the whole western hemisphere in the same shoe and see if it fits?
But who was Dilma's predecessor, Lula? How did his presidency provoke ire among the ruling elite — buttressed, as it were, on their very own Euro, or Euro-wannabe, white state? How did this scourge survive three-and-a-half PT presidential administrations? And where does the bedrock of resistance lay on this day, the 25th anniversary of the Candelaria Massacre, moving forward?
Thirteen-and-a-half years reneging on Brazilian history (a race against time?)
Inward the cannon was turned. It faced not the usual suspects but the historically excluded. Lula — after having run, unsuccessfully, for president on three separate occasions; after having mobilized workers through the perils of the military dictatorship; having lost his first unborn child and wife, Maria de Lourdes da Silva, who, seven months pregnant and suffering from hepatitis and anemia, received inadequate medical care at a public hospital; having barely completed the fourth grade; born into abject poverty, regional drought and disease in the northeastern state of Pernambuco — was not to be denied by his fellow kind in the 2002 presidential campaign. On Jan. 1, 2003, he was sworn in as Brazil's 35th president.
Cognizant of his more than unlikely political trajectory, he smacked the table before the judge awarding his presidential credentials and literally fell into his embrace. His raspy vocals crackling under the weight of trying to hold back tears, Lula said:
If anyone in Brazil doubted that a metal lathe worker would emerge from a factory plant and ascend to the presidency of the Republic, I, in 2002, proved them wrong. And I, who on so many occasions was accused of not having a university degree, earn, as my very first diploma, my country's presidential Republic diploma."
His requirements were exacting. The narrowest of lines had been drawn from the depths of economic deprivation to the pomp of the Planalto Palace, the president's official workplace. Reneging on Brazil meant turning his attention to the negated. Hence, Lula's embarkation was firmly rooted in policies geared toward the masses. Social programs established during his two presidential terms (2003 – 2011) rescued millions from historical poverty. The country was taken off the U.N. World Hunger Map. The Bolsa Familia program started just two years into his presidency, provided monthly allowances to guarantee basic needs of impoverished families, such as food, hygiene and transportation.
Another ambitious program, the Growth Acceleration Program (PAC), was established in 2007. It invested huge amounts in education, transportation, health services, infrastructure, sporting installations and other public works in mainly poor communities. Complexo do Alemão, one of Rio de Janeiro's largest favela conglomerates and the community with one of the lowest human development indices in the city received over R$800 million (over US$200 million at today's exchange rate) in investment as part of the PAC. Other large favelas, such as Rocinha and Manguinhos, were also contemplated in the public works. Tack Dilma's administration on and Brazil's government, led by two terms of back to back PT affiliates, built 422 technical schools, 18 public universities and 173 new university campuses.
This stripe of public policy began the long path of narrowing Brazil's social schism — a razor-sharp, broad-daylight reality that can't be divorced from its racialized, oppressive political and economic structure. Attempts at social inclusion, however, soured legions in these badlands. Egos were trampled. A new reality had dawned as the daughter of the well-housed, well-suited and well-off now sat in a university lecture beside the daughter of her family's black nanny. The rich were confused. What's going on?
A swift political turnabout was in desperate need of relief. For the white state is an all but critical feature of humanity. It served, without question, as Brazil's and the western world's colonization blueprint. To that extent, even the mere enunciation of Brazil — a word used by Portuguese settlers to denote a tree genus, pau brasil, from which resin was extracted and used as dye for luxury clothing — becomes bitter romanticism of its colonial origins. As does the word America.
It would be Martin Waldseemüller, a German clergyman and then cartographer, who bestowed the feminized version of Amerigo Vespucci's first name, America, for a particular section of what would become known as Brazil. "I see no reason why anyone should justly object…(he is) a man of great ability." However, the entire heteronormative White-Western world would be packaged in honor of Vespucci, an Italian sailor-of-fortune, a man who committed arson upon an indigenous community as he bade farewell after his first European voyage to their new world and, per his journal entry, "thereon made sail for Spain with 222 captive slaves."
To paraphrase Roxanne Dunbar-Ortiz: America is a massive crime scene.
Despite best intentions … impasses
Still, thousands of black women took to the lawn of Brazil's National Congress to voice their opposition to structural racism and violence in 2015. Not to mention, over the past decade, the murder of black women in Brazil has increased by 54 percent, according to the government's own figures.
Marielle Franco recalled that during a 14-month stretch (2014 – 2015) in the lead up to the Rio Olympics, the favela where she lived was laid siege by the military:
I know what it feels like, in practice, what it's like to go to sleep and wake up with the rumble of tanks, being frisked and numerous violations of rights, making us, those who live in favelas, very apprehensive. Not only is this for the perspective of holding a political and theoretical debate. In the [Complexo da] Maré, my home, where I live my life, there were 14 months of siege by [Brazil's] National Armed Forces during the Olympics. Unpreparedness, violations and violence were routine."
The local community group Redes da Maré conducted a survey titled "The Occupation of Maré by the Brazilian Army," establishing that 75 percent of the residents living in the Complexo da Maré disapproved of the 2014-2015 military occupation.
Then too, opposition to Lula and Dilma's political program, not to mention private media attacks against their every move, was anything but timid.
The rural lobby stymied land reform and demarcation of traditional indigenous territory. Affected parties included indigenous communities such as the Guarani-Kaiowá, quilombolas – rural communities of African-descendants who resisted slavery — and the Landless Workers Movement (MST).
Violence perpetrated against historically excluded communities teaming with black residents continued to explode. The Institute of Applied Economic Research, a government-led research foundation, detailed that between 2005 and 2015, while the homicide rate among black people had increased by 18.2 percent, the same homicide rate for white people had decreased by 12.2 percent. It also highlighted that of every 100 people killed in Brazil, 71 are black people, and that the risk of an African-descendant being murdered is 23.5 percent greater than that of other groups.
The Map of Violence, compiled by Julio Jacobo Waiselfisz, revealed that between 2003 and 2014, while the number of homicides by firearm in the white population decreased by 26.1 percent, it increased in the black population by 46.9 percent. The data also showed that, compared proportionally to white people, 71.7 percent more black people were killed. That number had skyrocketed to 158.9 percent in 2014. The years encompass both Lula and Dilma's presidency. Faced with unequivocal data, researcher and lawyer Dina Alves made it plain: Brazil is a "genocide project…not by chance."
Well-intentioned as it was, the R$800 million PAC urbanization investment project destined for the Complexo do Alemão epitomized state intervention without — according to Alan Brum Pinheiro, co-founder of the Instituto Raízes em Movimento — taking into account "community priorities." Characterizing the huge investment as an overall "negative experience," he recalled:
The government urbanization project was undertaken without consulting with the community. Whenever we asked for something, or attempted to influence their plans, they'd say: 'That's not technically possible.' Precisely, because you all don't understand that that can't be done here. So they didn't allow us to participate in the project's process."
A quarter of the total investment was dedicated to building the Complexo do Alemão cable car, criticized by locals as being a mere tourist attraction with no social benefit to the community in terms of improving shoddy public transport.
"Tooouuurist, come take a ride on the cable car / Take a photo, take it abroad / Our image going abroad." Lyrics | Tourist, Come Take a Ride on the Cable Car by MC Rosani
Discontent came center-stage in 2013 when the Instituto Raízes em Movimento and Rocinha Sem Fronteiras brought a class-action lawsuit against the state of Rio de Janeiro for failing to include public input and scrutiny in the construction work.
In respect to increased diplomatic relationships between Brazil and several African countries during Lula's presidency, Sam Okoth Opondo, a Kenyan political science professor, stressed that before one delves into the South-South relationship, using the diplomatic language of the state, it's important to recognize the historical debt Brazil has accrued with African descendants in the appropriated South American country:
That being the case, rethinking, reinvigorating and renegotiating Afro-Brazilian relationships doesn't mean, solely, to grow economic relationships with African states, among the BRICs, but it also means rethinking reparation and inclusion policies." (quote translated from Nexo Jornal)
How can disparities between progress and social inclusion during Lula and Dilma's presidencies interlaced with telltale signs of persisting inequality be explained? Dilma quipped, alluding to the white state devour without mentioning it directly, tweeting, "From the (TV) Series The Regression, or how to go backwards 20 years in 2" under the misleadership of Michel Temer, a president who rose to power via a fraudulent impeachment process. Weeks later she made her sentiments more explicit when describing the military intervention in Rio as a mechanism to create an enemy — "black people." Such acknowledgement, however, was staple for growing consciousnesses in those periphery communities. DJ KL Jay of the famed rap group Racionais MCs, had publicly affirmed to Carta Capital in June 2016 that "black people are in enemy territory."
And that territory carries a truncated history of 517 years, going by European books. (Such dating is of particular significance, taking into account the so-called Luzia Woman fossilized cranium, which was found in a cave in Brazil and dates back, according to Western anthropologists and scientists, some 11,500 years. Manchester University's Richard Neave produced a facial reconstruction of the ancient fossil and characterized it as being that of a negroid) Of Brazil's 517 years of existence, if the years of colonization, slavery and dictatorships are compiled on the upper line and subtracted from the rest, it would amount to just 70 to 71 years, depending on one's historical discretion, living in a free state. Has this historical process engendered a country that can't discern between what is freedom and what is not? If so, where does the greatest source of resistance reside?
Quilombos: Unfinished struggles against you know who
Normal, wouldn't you think, the injured angry soul's retreat…In the autumn of my life, I am left regarding white people, before knowing them individually, with irreducible mistrust and dull dislike." — Randall Robinson
Brazil's majority black and brown populace, unquestionably, faired significantly better under Lula and Dilma presidencies compared to any other federal administration in the country's history. And that history is as vast as it is lethal and present. Lilia Schwarcz, professor of anthropology at the University of Sao Paulo and editor of the Dicionário da Escravidão e Liberdade (Dictionary of Slavery and Freedom), said:
Slavery took root in Brazil in all forms. People often believe that only large landowners possessed enslaved people. Not true. I want to underscore, once again, it's [slavery], not just inheritance; we've taken action, substantially, in recreating racism in Brazil."
She maintained that the seed for this recreation was planted soon after slavery was abolished. One and a half years later, when the Brazilian Republic was established, the original national anthem had a verse with the lyrics: We don't even believe that slaves previously existed in our noble country. "It was a process of national amnesia."
Getting to the heart of the matter transcends distorted geopolitical boundaries, Brazil in its modern-day nation-state (de)formation. That road leads to the unfolding black presence and epistemologies in a hemisphere compartmentalized, crafted and choreographed by European greed, regardless if it transpired during colonial or postcolonial periods. Historical vacuums don't exist. Therefore, any and all attempts to prove Brazil is not unredeemable from its heartache past weigh against the struggle for freedom, self-determination, the architects of building a better society.
That history also recalls that social inclusion, especially taking into account historically oppressed peoples in the large-land-mass colonies or free states of a new world, isn't a zero-sum game. Rather, a complete rupture of the status quo, a total reset in the affairs of the oppressed and the oppressor, has its own special benefits. In Haiti it morphed from regional revolts of enslaved men and women, Makandal included, to the "Night of Fury." Thirteen years of warfare against the French, Spanish and British, ending in the first modern African republic in the West.
Then the new government, under the direction of revolutionary leader Jean Jacques Dessalines, decreed welcome to enslaved Africans and indigenous people anywhere in the world, who upon their arrival would be granted freedom and citizenship. This tectonic event — so often overlooked as a fountainhead of freedom and justice, for it need not entertain a white savior complex — must be revisited, time and again, as the precursor to any and all declarations of freedom for enslaved peoples in this hemisphere.
Schwarcz reminds us that the Haitian Revolution had such repercussion in Brazil that it was given an epithet, esse haitismo (that haitianism) — used to identify a black person, unruly to the standards and expectations of white laws and society.
In Colombia and other Spanish colonies, communities of free, independent African peoples were called palenques or cimarrones. In the English-speaking Caribbean and United States they were called maroons. However, none of these communities — or community-nations, if you will — reached the same heights as the Haitian Revolution. Longer lasting and similar to the palenques, cimarrones and maroons are the multitude of quilombos spread across Brazil.
Chattel slavery in Brazil was no fluke. It was the last country in the West to legally abolish it. The story goes that Princess Isabel, the redeemer, Imperial Princess of Brazil, fell distraught over the plight of the monarchy's enslaved Africans. To bring an end to the inhumane practice, she signed the Lei Aurea (Golden Law) on May 13, 1888.
As if at the snap of one's fingers, from sunup to sundown, without a dime of recompense or national reconciliation, were freed, according to historical record, the black masses. Andre Rebouças, a popular black abolitionist from the state of Bahia, insisted, as a fundamental condition to be deemed free, that there be land redistribution favoring the formerly enslaved, as well as education for all. Popular demands of this nature were met by Rui Barbosa, Brazil's Minister of Finance, (1889-91) who made sure to eradicate the scourging paper trail of slavery, ordering all state documents pertaining to the practice incinerated.
But, as the Haitian axiom goes – the axe forgets, but not the tree – neither would the quilombos, nor devotees of the African-based religion of Candomblé (Yoruba), or capoeira martial artists and messages conveyed in the rhythms of the conga.
Quilomb de Quariterê was led by Tereza Benguela, popularly known at the time as Queen Tereza, after her husband, José Piolho, was killed by Brazilian soldiers in the 18th century. Located in the Vale do Guaporé in the present-day state of Mato Grosso, the free territory, according to local documents at the time, was home to more than 100 people (approximately 79 black people and 30 indigenous people) and was organized around a political, economic and agricultural landlocked state within, yet wholly independent from, Brazil.
Here, rice, corn, beans, cassava, banana and other staple food items were harvested. Cotton was grown and a series of looms were incorporated to produce textiles that were sold to other communities, as were surplus comestible items. A defense system was employed to secure their free, independent territory, not that the Peace of Westphalia, giving rise to the concept of national sovereignty, would ever recognize their feat. Those treaties sought an end only to the religious wars waged among Europeans in the 16th and 17th centuries. Directed outwards upon the black and brown peoples of the world, all was, and still is, fair game.
To be clear, public records from nearby Vila Bela da Santíssima Trindade municipality registered in 1770 that the Quilombo de Quariterê was "governed by a parliament, complete with a residence, that served as a council [for Queen Tereza], of which deputies convened on scheduled days during the week …The Queen presided over that seated black senate."
Quilombo de Quariterê, under the leadership of Queen Tereza, would last for two decades, until her capture and decapitation in 1770.
The most well-known quilombo, Quilombo dos Palmares, lasted almost the entirety of the 17th century. Home to anywhere between 10,000 and 20,000 people, it was known to have an organized, socio-political structure mirroring that of socio-political structures in pre-colonial Africa. In 1678, the community-nation agreed to a peace treaty offered by governor Pedro de Almeida and the Kingdom of Portugal.
Though led by black people, Quilombo dos Palmares was also home to indigenous nations, Muslims, Jews and some outcast Portuguese residents. They fended off consistent bushwhacking attacks by the Portuguese and Dutch for nearly a century before being destroyed in 1695.
Even cities were not immune from the fight for freedom. In 1835, black Muslims, primarily from the nagô ethnic group who spoke Yoruba, rebelled against slavery in an event called the Malé Rebellion. The first aim was an attempt to free Pacifico Licutan, a popular Malé leader who was detained in a dungeon beneath City Hall. Unsuccessful, the group spread throughout the city, swelling to some 600 men attacking the state's security apparatus.
That Brazil — as colony, monarchy, state, whatever cognomen it desires — has been fronted in quests to legitimize its cartography of violence, speaks volumes of quilombos — hundreds, if not thousands, sprinkled across the country's 26 states. Attacks against these regional community-nations were not uncommon, and the exploitative conditions giving rise to them have gone nowhere. Simmering beneath this legalized sadism have been decades' long exoduses of families who fled poverty, hunger and drought in Brazil's north and northeastern regions. Settling mainly in the cities of Rio de Janeiro and São Paulo — their dreams of better opportunity turned to scouring society's muck — the favelas became home to the descendants of many of those displaced families. Over the years, they've come to neighbor affluent residential bubbles that, on one hand, loathe their presence, while, on the other, loving the convenience of having a cheap labor source — nannies, maids, construction hands – nearby. However, two issues have transpired over the past few decades in favela communities — potential urban quilombos — that have, undeniably, started to raise eyebrows.
First, the proliferation of hard drugs and some heavy weaponry in these communities — none of which are produced or manufactured there, mind you — has created a certain degree of power structure parallel to the substandard state authority. Second, and more importantly, over the past few decades, through the vibrant underground hip-hop movement in Brazil, producing groups such as Racionais MCs, GOG, Rashid and others, and through burgeoning black consciousness, the favelas have been transformed into havens of activism, pride and community reaffirmation, awakening a generation from Brazil's callous, slumber doctrine of democracia racial (racial democracy).
These are the favelas on the cusp of becoming urban quilombos, which helps to explain the repeated attacks perpetrated against such communities by the police, army and other official or unofficial security forces, all claiming the fight against drugs and gangs as wholesale pretext. As Mano Brown, co-founder of Racionais MCs, responded when asked to describe Zumbi, the last leader of Quilombo dos Palmares:
He was a grain of sand. A legend. … It's just that the distance in time hinders. What would Zumbi be today? Someone sporting tribal clothes with a spear in hand, or a revolver? I don't know."
Venturing further, Irone Santiago, mother of Vitor Santiago Borges, who was left paraplegic after being rifle shot by a soldier during the military intervention in Complexo da Maré in 2015, railed:
With each passing day the number of mothers victim of this assassin, genocide State increases. We're thirsty, starved for justice. We only want what's been taken from us, the right to come and go as we please. I didn't request the military in [Complexo da] Maré. They're not here through my consent, my family's consent, the consent of community residents…People must become outraged and pursue their rights. We can't allow them to keep killing us."
Legacy of quilombos
Be they Christian, colonial, nation-statist or neo-liberal, the modes of identification and the forms of mediating estrangement that humanitarianism privileges often go unquestioned." — Sam Okoth Opond
The left and progressives have done little except present a doomsday scenario in case Lula is not re-elected president. To be fair, it would be disastrous. It already is, as he's been imprisoned since April 7 on corruption and money laundering accusations without a shred of evidence being presented by prosecutors or judges. A 13.5-year experiment in social inclusion — not to mention regional integration, more visionary grit than fanfare, Brazil's inclusion in the so-called pink tide — is under attack. Lula admitted it himself, saying that he's an "innocent person who's being judged to avoid his return [to office] to effectuate the best government in Brazil's [history]. … History is built over many years. I know that I'm going to go down in history as the president who did the most for social inclusion in this country."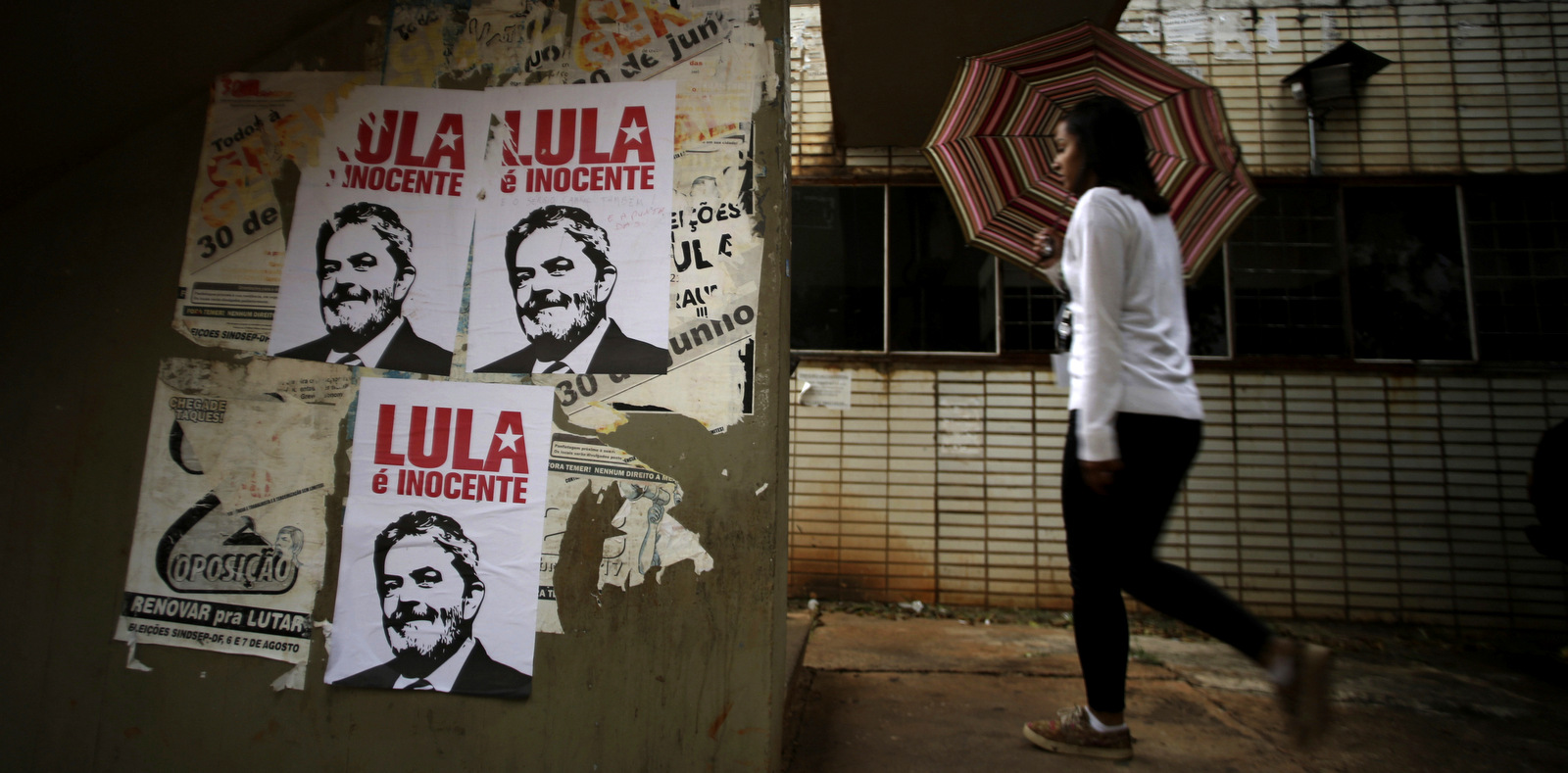 His feat is reflected in every last presidential electoral poll. If allowed to run as a candidate, Lula wins hands down. If barred, right-wing congressman Jair Bolsonaro — an admirer of Augusto Pinochet, believing that the general should have "killed more" — will more likely than not, be handed an already usurped presidency.
Also, what once appeared to be the opposite end of that spectrum has taken a strange turn in the past week. Manuela D'Avila — a congresswoman representing the state of Rio Grande do Sul and member of the Communist Party of Brazil (PCdoB) — posed next to the head of the Brazilian Army, Eduardo Villas Boas. Apart from arranging meetings with other presidential hopefuls, Villas Boas is better known, of late, for saying that all security forces taking part in the military intervention in Rio de Janeiro need "guarantees" that they will not be subjected to "another Truth Commission." One day prior to Brazil's Supreme Court denying Lula's first habeas corpus request in April, Villas Boas tweeted threatening remarks that the institution shouldn't grant the request for "all good citizens repudiate impunity."
The call to free Lula and allow him to run as president echoes throughout Brazil and beyond, intensifying with each passing day. And rightfully so. The stakes are high. His imprisonment– and, more importantly, restriction from running as a presidential candidate — comprises the soft coup, hard knocks, white state of affairs.
Nevertheless, if the powers that be, the white state, hold firm as they do on Lula's privations, resulting in a default Bolsonaro presidency, it mustn't be neglected, much less forgotten, that even worse, much worse, has been countered. Never amorphous when faced with white-state terrorism and its modern-day derivatives, African-descendants, the rainbow bloc of indigenous nations, in ways almost unimaginable, organized, resisted and developed. Recognizing this stewardship of resilience, it must also never be forgotten that they, nation(s) within Brazil, are not conspicuous targets, confined to social inclusion programs, but fire, the wind behind ones back, the thrust and vanguard, agents and builders of free, democratic societies longstanding.
They are the roots of a flower at spring, blooming, their portents more than just encouraging, unfathomable to the modern-day Western nation-state, even ideological polar opposites represented in socialist Cuba and neoliberal, capitalist United States. Fidel Castro reminded us, during a speech delivered at the closing ceremony of the first International Congress on Culture and Development in June 1999, that European "colonial powers" are "responsible for centuries of exploitation, backwardness and poverty." He asked:
Are we to resort to a racial interpretation of the reasons for the poverty of those African peoples when it is a known fact that, in that continent, various civilizations had attained remarkable progress at a time when in Berlin, Paris and many other places of civilized Europe there were only wandering tribes? A thousand years before, there already existed civilizations in Egypt, Ethiopia and other parts of Africa… What is the cause of this poverty if not the systems of colonialism, slavery, neo-colonialism, capitalism and imperialism that reign during the past few centuries?"
Fight for better days
It was a sunny day in the marvelous city. The press was there. Not more than two days had passed since Marcus Vinicius da Silva was killed during a military incursion into his community, Complexo da Maré. His mother, Bruna da Silva — a maid, a one-time landfill scavenger in search of recyclable debris — stood before the cameras and microphones. "This sick state is to blame for the murder of children dressed in school uniforms."
A "sick state."
Her son was killed on June 20 this year during a military-police intervention in Complexo da Maré.
Maria Eduarda, a 13-year old student, donned in what appeared to be school uniform while participating in a physical education class, was fatally shot three times by police in Acari favela on March 30 last year.
Luana Barbosa dos Reis, a 34-year-old mother, died on April 13, 2016, after being beaten, in the presence of her 14-year-young son, by at least six policemen in a periphery neighborhood of Sao Paulo for refusing to be frisked during a random stop.
Today marks the 25th anniversary of the Candelaria Massacre. To give you an idea, seven were indicted in the case. Despite being convicted and sentenced to 300 years in prison for his involvement in the murder of those eight homeless youths, Marcus Vinicius Emmanuel Borges, an ex-military policeman, remains a free man. Carlos dos Santos and Marcelo Cortes, both military policemen at the time, were indicted in the murders but were acquitted of all charges. Others sentenced in the case have since been released from prison or pardoned.
The 25th anniversary of the Candelaria Massacre also comes just four days prior to Marielle Franco's 39th birthday. Over four months have gone by without a single arrest, much less a definitive answer in her assassination.
On this 25th anniversary, the collective voice of mothers whose sons have fallen victim to a "sick state," the obstinacy of which has yet to be broken, echoes louder than ever. So does the spirit of resistance, ever since Europeans set foot upon these shores. The struggle for better days is ongoing. It will go nowhere no matter who Brazil elects or selects as president. For as dos Santos wrote: "It will be hard to keep saying that Brazil is a democracy." And if the country is not "made for change," the question becomes: Who is?
Feature photo | A police officer is seen while students and friends of Marcos Vinicius, 14, a boy who was shot and killed in a police and military operation at the Mare slum, protest in Rio de Janeiro, Brazil, June 21, 2018. Silvia Izquierdo | AP