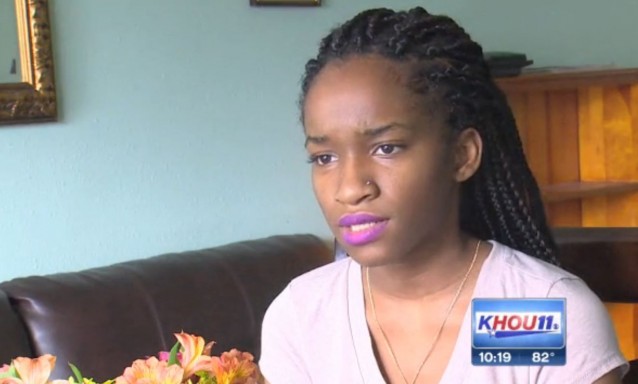 In an incident that shares several elements with the infamous Steubenville rape case that made national headlines last year, a 16-year-old girl from Texas says that photos of her unconscious body went viral online after she was drugged and raped at a party with her fellow high schoolers. But the victim isn't backing down. She's speaking out about what happened to her, telling her story to local press and asking to be identified as Jada.
After other teens started mocking her online — sharing images of themselves splayed out on the floor in the same pose as Jada's unconscious body under the hashtag #jadapose — the victim decided to speak out. She sat down with local outlet KHOU 11 to tell her side. "I'm just angry," Jada said.
According to Jada, she was invited to a party at a fellow high schooler's house. The boy who was hosting the party gave her a drink that she believes was spiked with a drug that made her lose consciousness. She passed out and doesn't remember what happened next. But then she started seeing evidence of her sexual assault circulated online, and some of her peers started texting her to ask her if she was okay.
Then, #jadapose started turning her rape into a joke. When the Houston Press reached out to one of the individuals who shared a popular #jadapose photo, he said that he didn't personally know Jada and was simply "bored at 1 a.m. and decided to wake up my (Twitter timeline)."
Jada decided to share her name and her story with the press because she has nothing to hide anymore. "Everybody has already seen my face and my body," she said, "but that's not what I am and who I am." Nonetheless, the social media firestorm has taken a toll on her. She says she now wants to be homeschooled.
"No one's daughter deserved this," her mother, who asked not to be identified by name, told KHOU 11 News. "No human being deserved this."
Like Jada, the Steubenville rape victim found out about her assault on social media, after images of her peers dragging her unconscious body were posted on Instagram and Twitter. A video of her attackers laughing and joking about her victimization — saying she was "deader than Trayvon Martin" — horrified people across the nation who wondered why these boys thought violating someone's consent was so funny. After the internet hacktivist group Anonymous got involved in the case, and started demanding justice for the Steubenville victim, much of the country started paying attention to the criminal proceedings in the tiny Ohio town.
But, while Steubenville certainly helped spark a national conversation about issues related to rape culture, it's worth remembering that it's hardly the only egregious example of sexual assault, victimization, and cyberbullying. The increased awareness to the subject at the time didn't change the fact that the majority of teens still don't learn anything about healthy relationships or sexual consent, and most young girls actually think of sexual violence as normal. Cases like Jada's are happening all across the country, often exacerbated by kids who think it's funny to post about it on social media.
The Houston police is currently investigating Jada's allegations, and no arrests have yet been made. The alleged perpetrator has denied that a sexual assault occurred, referring to Jada as a "hoe" who "snitched."