MINNEAPOLIS — (Analysis) In case you missed it, last week the creator and producer of Empire Files, Abby Martin, released an in-depth interview with Randy Credico, a long-time activist and Julian Assange supporter who has been embroiled in the Mueller investigation ever since Nixon bagman Roger Stone fingered him as a back channel to WikiLeaks.
Credico has taken a beating from both sides of the political spectrum, with the left blaming him for Donald Trump's ascension to the White House while the far-right has condemned him for the troubles that seem to be brewing for Trump and their fallen hero, Roger Stone. He's even received death threats but, as Abby Martin pointed out, Credico has a rich history of political activism and — with the latest information coming out about Stone, Corsi, and others — his full vindication seems imminent.
A long-delayed second act
According to the documentary 60 Spins Around the Sun, Randy Credico grew up in southern California, spending time at his father's nightclub where acclaimed artists such as Louis Armstrong, James Brown, Sonny and Cher, and Bobby Darin performed. He was bitten by the showbiz bug at an early age and he channeled that into political stand-up and spot-on impersonations of Ronald Reagan, Henry Kissinger, and George W. Bush at the local clubs in Las Vegas. He even performed for Johnny Carson on The Tonight Show but after comparing the UN ambassador to Eva Braun he was never invited back. In fact, Credico's act became so scandalous politically-speaking that at one point he was no longer able to work the Vegas circuit. According to The New Yorker, his "radical politics — combined with a love of cocaine — had derailed his comedy career," and it would take more than 10 years after The Tonight Show for his life to turn around.
The Rockefeller Laws
At 43 years old Credico found himself in a Florida motel room recovering from a cocaine binge, a long way away from Carson's Burbank studio. But things were far from over for the political comedian, and divine intervention showed up in the most unexpected way. According to Anthony Papa:
One night as Credico was flipping the channel of a television in a sleazy motel in Florida…he stumbled upon me on C-Span television talking about the Rockefeller Drug Laws and the conditions of imprisonment I faced. He was so moved and impressed with what I had said, he vowed to get involved to fight the injustice of New York States drug laws."
Anthony Papa was a first-time offender who had been sentenced to 15-years-to-life under New York's brutal drug laws for delivering four ounces of cocaine. He was one of the thousands of Blacks and Hispanics who had been caught up in the Rockefeller laws, the state's draconian mandatory sentencing provisions. Credico's own father had spent eight years in prison so he knew the toll it took on inmates and their families. He made his way to New York, met with Papa, and launched a campaign to fight the state's drug laws.
In 1998, he became the director of the William Moses Kunstler Fund for Racial Justice and every Friday at noon he and Al Lewis led the Kunstler Fund-sponsored "Vigil to End the Rockefeller Drug Laws" at Rockefeller Center. In August 2000, he spoke at the Rayburn Building (where many members of the U.S. House of Representatives have their offices) about the impact of federal drug laws and the "prison industrial complex" on black communities, prison populations, and race relations. He discussed how distance prevented families from visiting loved ones who were incarcerated, while their life savings was spent on attorneys who didn't have a chance in hell of beating New York's sentencing laws. The system, Credico argued, tore families apart.
In 2004, Jennifer Gonnerman reported on Credico's dedication to the cause in her article "Seven Years on the Sidewalk:"
He knew little about New York politics in early 1998, when he helped organize his first vigil to protest the state's drug laws…Some of the rally's organizers thought it should be a one-time event; Credico disagreed. He packed up the posters and banners, brought them home, and over the next several years, organized more than 100 events."
Credico organized protests, coordinated demonstrations and vigils, and showed up at court proceedings with prisoners' relatives in tow. On December 7, 2004, his hard work finally paid off when the New York legislature eased up on some of the more severe penalties behind the Rockefeller laws. It wasn't the victory Credico was hoping for after a seven-year battle but it was a huge victory nonetheless. "Randy Credico really, really, really deserves a lot of credit," said former New York State Senator Thomas Duane.
Texas, Nicaragua, and fucking rats
In 2002, Credico took his campaign south to Tulia, Texas, where racial injustice had led to the imprisonment of half of the town's black population. From the outside Tulia looked like Small Town, U.S.A. but it was racist to the core and its narcotics task force was looking to line its pockets with grade A government grants via the country's war on drugs. According to Credico, Tulia's racially-motivated mass drug arrests were going according to plan until he showed up and exposed the town's "war on color." Tulia's defendants were eventually exonerated owing to Credico's hard work and dedication.
He also spent time in Nicaragua raising money for the Sandinistas and back in New York he pressured McDonald's to clean up their act after the restaurant's garbage habits created a neighborhood rat problem. According to Credico, the McDonald's victory was the first time in his life that he was a hero to both the left and the right. "Everyone hates fucking rats," he explained.
In 2009 and 2013, he ran for the Senate and for governor of New York, respectively. After failing to win either election, he went on to run a successful campaign to stop New York's Office of State Comptroller from investing in the state's private prisons system, but Credico's greatest challenges were yet to come: clearing his own name and freeing Julian Assange.
Enter Roger Stone
During Abby Martin's interview with Credico, he discussed how and when he first met Roger Stone (at Tom Golisano's campaign headquarters during New York's 2002 governor's race) and at what point he realized that Stone was a completely untrustworthy "rat fucker." That moment came in 2007 when Stone, whom Credico described as a "political operative" who may or may not have a substance-abuse problem, called and left an expletive-laden message on an answering machine belonging to Eliot Spitzer's father and then falsely accused Credico of making the call. The kicker was that the phone call was traced back to Stone's apartment but that didn't stop him from accusing Credico of impersonating him.
Four years later Stone spread a vicious rumor that Credico had died of an overdose, which Credico admits made his life difficult. Their relationship over the years has been stormy at best and the media loves to describes them as two grumpy old men and bitter associates. But although Credico remains grateful to Stone for bringing him aboard the 2002 Golisano campaign, which gave him a bigger platform to rally against the Rockefeller laws, there doesn't appear to be much else left between the two of them other than Stone's continued allegations that Credico was his backchannel to WikiLeaks' publisher Julian Assange.
Roger Stone's "back channel"
It's difficult to talk about much of what happened in the latter part of 2016 without revisiting Julian Assange's now infamous June 2016 interview with ITV. In it, Assange announced to host Richard Preston that WikiLeaks had pending leaks relating to Hillary Clinton. However, that interview may have inadvertently misled news organizations, political theorists, and even Roger Stone for the next four months.
Prior to Assange's announcement, Preston asked him about his interest in the emails Hillary Clinton had sent via her private server and whether or not he had any of her "undisclosed emails."  Assange responded that WikiLeaks had published 32,000 of her State emails and then, "We have upcoming leaks in relation to Hillary Clinton…" Preston pressed him again on Clinton's missing emails, seemingly under the impression that Assange's announcement meant WikiLeaks had and would be publishing them.  And he wasn't alone.
That same day the Guardian reported, "Julian Assange, the founder of WikiLeaks, has said his organization is preparing to publish more emails Hillary Clinton sent and received while U.S. Secretary of State." And Time Magazine wrote:
WikiLeaks founder Julian Assange says that the whistleblower organization will publish more emails Hillary Clinton sent and received on her private email server while Secretary of State…Assange did not indicate when or how many of Clinton's emails he would leak, the Guardian says."
Right. Because Assange never said that. Here's part of what he did say:
We've accumulated a lot of material about Hillary Clinton; we could proceed to an indictment but Loretta Lynch is the DOJ…she's not going to indict Hillary Clinton…but the FBI can push for concessions from the new Clinton government in exchange for its likely indictment.

… [T]here's very strong material in the emails and in relation to the Clinton Foundation; for example, we published an email where Hillary Clinton is instructing her staff to remove the classified header of a classified document and send it by non-classified fax…she instructed her staff to violate those classification procedures in the United States."
It's quite possible that Assange's statements were not about WikiLeaks' upcoming publications but rather about Hillary's previously-released State emails, which WikiLeaks had published less than a month prior to this interview. The fact that he went on to use an example from those emails could be an indication that that's exactly what he meant.
Assange also mentioned the Clinton Foundation and 10 days later it appears that someone was concerned that WikiLeaks might publish emails from the Foundation so it was leaked to the press that the Foundation had allegedly been hacked by Russians.
Three days after the alleged hack was reported, Roger Stone was BCC'd on an email from former Fox News reporter James Rosen, who wrote, "Am told WikiLeaks will be doing a massive dump of HRC emails relating to the CF [Clinton Foundation] in September." In early August, Jerome Corsi sent Stone an email that mentioned both the Clinton Foundation and John Podesta:
Word is friend in embassy plans 2 more dumps…Impact planned to be very damaging… Time to let more than [Podesta] to be exposed as in bed w enemy if they are not ready to drop HRC…Would not hurt to start suggesting HRC old, memory bad, has stroke — neither he nor she well. I expect that much of next dump focus, setting stage for Foundation debacle."
Then, on August 8, 2016, Stone pushed the Clinton Foundation theory at a Southwest Broward Republican Organization event, where he claimed he had been in contact with Julian Assange. Two days later he backpedaled and told NBC News that he had used an intermediary to communicate with Assange and that he had "a pretty good idea of what's coming down the pike…"
But during the second week of August, Stone told CNN, Jerome Corsi, TheBlaze, and C-Span that WikiLeaks' next publication was about Hillary's missing emails and the week after that he randomly tweeted out, "Trust me, it will soon [sic] the Podesta's time in the barrel." By the end of August he was back to peddling the Clinton Foundation theory during an interview with Randy Credico. Interestingly enough, days before WikiLeaks started publishing John Podesta's emails on October 7, 2016, Guccifer 2 claimed that he/she had hacked the Foundation's emails.
So did Stone really have an intermediary who gave him inside information about WikiLeaks' upcoming publication? According to an article published by the Guardian on November 2, 2016, Stone alleged that an "Assange ally" had kept him informed of WikiLeaks' release:
Stone claims his American source, whom he declined to identify, has met with Assange, the WikiLeaks founder, in London and is a 'mutual friend' of Stone and Assange. The WikiLeaks source, Stone said, is not tied in any way to the Trump campaign but has served as a back channel for Stone, who is an outside adviser to the Republican presidential candidate, allowing the adviser to tweet and comment very broadly prior to some key WikiLeaks disclosures."
Indeed, Stone's comments were extremely broad and, aside from the Podesta tweet, wrong. And although he maintained for over a year that he would not burn his source, after being threatened with a subpoena last year by the House Intelligence Committee, he told them that Randy Credico was his back channel.
Things are not always what they seem
If anyone really took the time to examine what Roger Stone said leading up to Wikileaks' release of the Podesta emails, they would see that outside of the Podesta tweet, his predictions were wrong every single time. In a 2017 interview, Stone admitted that his alleged back channel had speculated (incorrectly) about the Clinton Foundation, and that's James Rosen he's referring to, not Randy Credico. Stone confessed to that fact less than two months ago. And in that same interview, he also admitted that the Podesta information did not come from Credico:
Michael Isikoff: "And now it's time for Podesta in the barrel."
Stone: "But you're mixing apples and oranges again. I never discussed Podesta with my friend who's talked — the journalist who's talking to Assange. These are two separate issues."
But notice what Stone did in this interview, which likely took place before Special Counsel Robert Mueller had Jerome Corsi or Credico's emails, or at least before Stone realized he did. He leads the viewer to believe that Credico was not his source for Podesta, but was with regards to the Clinton Foundation. We now know that James Rosen was Stone's source for the Foundation and it appears that Jerome Corsi was his "back channel" for the Podesta information.
On August 30, 2016, Stone allegedly told Corsi that he was getting "heat" over his tweet and that he needed him to produce a "memo of research" about the Podesta brothers as a cover story. However, Stone maintains that there was never a reason to create a cover story in the first place because his tweet was in response to research that Corsi had already been working on at the time.
Corsi, on the other hand, maintains that he not only created a cover story for Stone, he also predicted that WikiLeaks would publish Podesta's emails and that he passed that information along to associates, including Stone. In a complaint recently filed by Corsi against Mueller:
[Corsi] noticed that emails to and from Hillary Clinton's campaign manager John Podesta were conspicuously missing from the July 22, 2016 public-release of DNC emails…Dr. Corsi logically concluded that WikiLeaks would release Podesta's emails soon in a second round "data dump" from the same group of DNC emails stolen on July 5, 2016."
Ignoring for the moment Corsi's date on stolen data and his suggestion that the Podesta and DNC emails were from the same leaked email batch, he's now accusing Mueller and his team of threatening him with an indictment if he doesn't testify falsely against Stone and President Trump. But Corsi's troubles aside, the bottom line here is that there is one name missing in this entire Stone-Corsi debacle and that's Randy Credico. Credico told Abby Martin that at some point Corsi also emailed him and although he didn't reveal the contents of the communication, he did say that the Mueller team was aware of it.
In a recent interview with Ari Melber, Corsi admits that he was looking to get information about WikiLeaks' upcoming publication in order to pass it along to the Trump campaign while contending that he did nothing wrong as a journalist. When asked directly if Stone considered him his back channel (or at least one of them), Corsi replied:
"Sure, but it was not because I talked to Assange, it was because I figured it out on my own…I figured out that Assange had Podesta's emails, I told Roger [Stone] in this email…if I was the source it was because Roger believed me figuring it out, not because Roger believed I had a source."
Of course, as Melber pointed out, none of this explains why Roger Stone believed he needed a cover story, used Corsi's "memo of research" in front of the House Intelligence Committee, and that Corsi didn't object.
Don't forget that on October 5, 2018, CNN's Andrew Kaczynski published a story about how Mueller's office had in its possession radio interviews between Stone and Credico that appear to vindicate Credico as a back channel. At the end of the day, it appears that whenever Stone publicly referred to his alleged intermediary he was referring to either James Rosen or Jerome Corsi while simultaneously trolling the media about communicating with Julian Assange.
Mueller investigation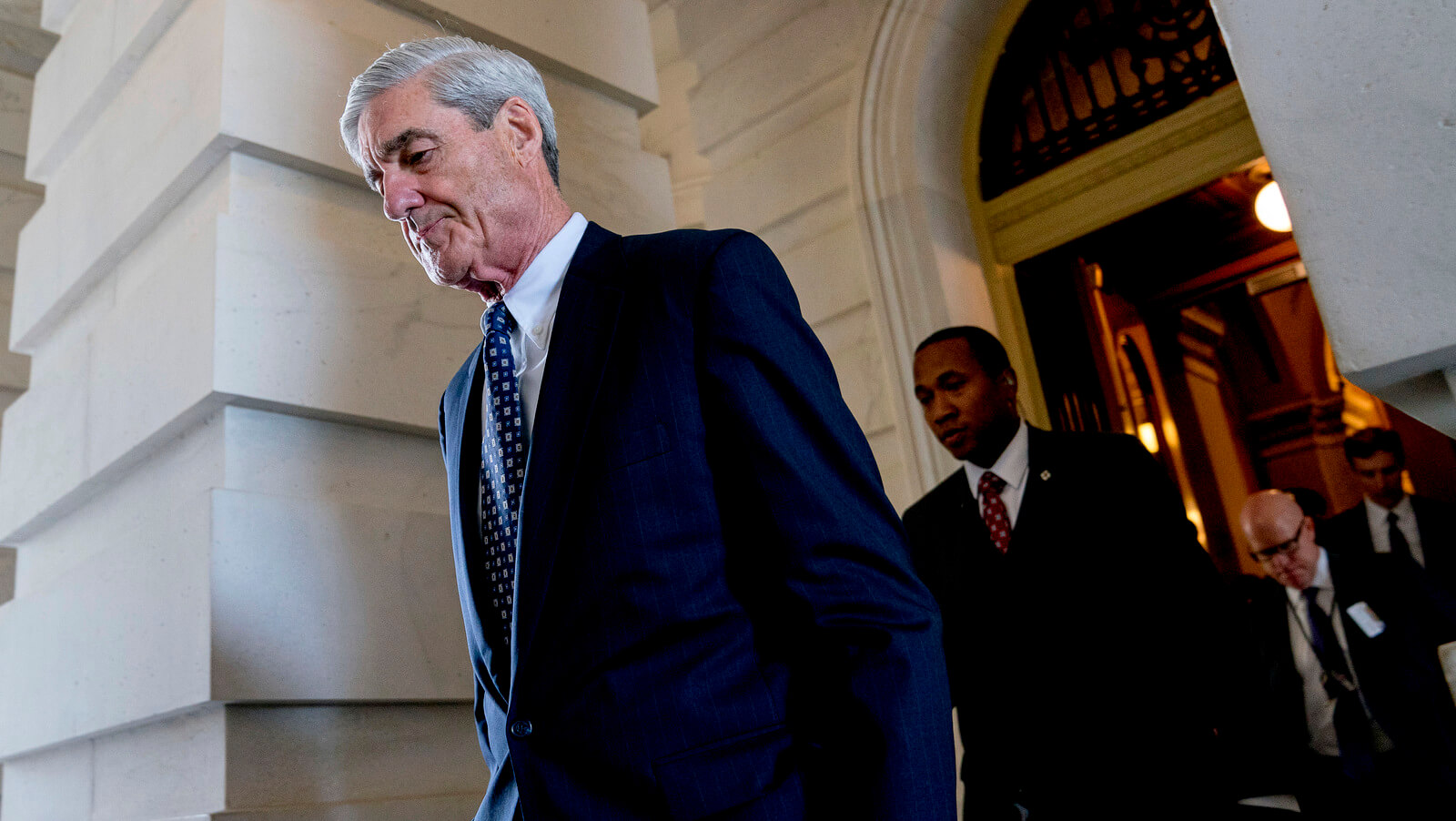 On September 7, 2018, Credico testified for over two hours in front of a grand jury that Politico reported was "zeroing in on former Trump advisor Roger Stone." The experience was like "sitting in an electric chair" and, according to Credico's attorney, the majority of questions were surprisingly not about Julian Assange, but rather Roger Stone. When asked by Abby Martin about the Mueller investigation, Credico says that in no way does Mueller believe he was a back channel and that he may have been brought in to show that Stone lied in front of Congress. As he put it:
Let's be blunt here, let's be honest here. Why would Julian Assange need to go to Roger Stone, I mean, that's not his m.o. If he's going to release something why would you telegraph it to some fucking political operative and have me who he doesn't know to give to him, what would be the point of that?"
Indeed, Julian Assange had no reason to use Roger Stone, Credico, or anyone else for that matter because there's ample evidence that Assange put out the information himself. For example, on June 12, 2016, he announced pending publications on ITV; at the end of July, he told CNN, "We have more material related to the Hillary campaign;" on August 6 he hinted that pending emails included Clinton's ties to Saudi Arabia and Russia; and on August 24 Reuters reported that he said, "I don't want to give the game away, but it's a variety of documents, from different types of institutions that are associated with the election campaign…" Looking back, it's almost astounding how often Stone got it wrong.
Witness intimidation
Robert Mueller may also be investigating Roger Stone for witness intimidation. Credico mentioned on his show, Livestream on the Fly, that he's received death threats from the alt-right but it's unclear whether Stone was involved in any way. What is perfectly clear is the fact that Stone threatened to steal or kill Credico's dog and has sent Credico an endless array of threatening text messages telling him to prepare to die, that no one believes him, and that he won't be around "next year." Stone has also tried to pressure him by convincing three of Stone's friends to corroborate his back-channel story.
Stone even tried to set Credico up by asking him to confirm a document about Hillary Clinton and Libya with WikiLeaks but he was actually hustling for Dr. Kilari Anand Paul, an alleged Christian preacher and "global peace ambassador."  Credico, aware of the implications, responded, "…Don't say now, don't like trap me as your fucking back channel…you said you had a back channel."
Credico maintains that he is not a target in the Mueller investigation and when asked about those recently released, incriminating text messages between him and Stone, he explained that they were edited and that fellow journalists, as well as the Mueller team, are well aware of that fact. In fact, Credico seems fairly confident in the material that Mueller's people have in their possession and that he will be vindicated. In the meantime, he has another campaign he's working on: Freeing Julian Assange.
The Trump administration and Julian Assange
Since Donald Trump was elected U.S. president, Julian Assange's situation has become far more grave. Former Attorney General Jeff Sessions said it was a priority to arrest him; Secretary of State and former CIA Director Mike Pompeo called WikiLeaks a non-state hostile intelligence agency, and Trump told the press back in 2013 that WikiLeaks' staff deserved the death penalty. Trump also spent his time on the campaign trail exclaiming, "I love WikiLeaks," only to deny knowing anything about Assange two weeks ago.
It was also revealed recently that the U.S. has definitively filed secret charges against the journalist and publisher and entirely fabricated stories that are probably state-sponsored are now appearing online. Credico has spent nearly the last three years fighting anti-Assange propaganda and the U.S. government's insatiable desire to extradite, prosecute, and imprison Assange. He has undertaken this mission through his show "Live on the Fly – Countdown to Freedom," in collaboration with Dennis Bernstein's Flashpoints, and the more recent "Livestream on the Fly," aired from the Brooklyn Commons in Brooklyn, New York. Guests on his shows have included the brilliant John Pilger, Craig Murray, Assange's mother Christine Assange, Pam Anderson, Thomas Drake, Stefania Maurizi, Jimmy Dore, Abby Martin, Max Blumenthal, and Julian Assange himself.
Credico's open support of Assange, coupled with his strong disdain for President Trump and recent developments in the Roger Stone story, have put Credico himself in danger. In a Livestream on the Fly interview with Abby Martin, she noted that with Trump at the helm the country could go "full-blown fascism real fucking quick," and that we're now seeing alt-right groups like the Proud Boys and "brown-shirt parodies" not only "worshipping the sitting government of the United States" but being sanctioned and protected by the State. Her concern? What if Trump is voted out or impeached and he refuses to leave?
Besides the growing brown-shirt movement here in the U.S., Credico is also concerned with the fact that Roger Stone has been palling around with alt-right vigilante-like groups like the Proud Boys, who could well become disgruntled if Stone turned on Trump. As he explained to Abby Martin, Credico doesn't necessarily believe that Stone would, say, steal or kill his dog, but all it takes is one of these "alt-right lunatics" to follow through on Stone's threats. He said he was going to lay low for a while and wait to see how the indictments played out. If Stone is indicted, the alt-right may very well cast their misguided blame on Credico for Stone's downfall. In the meantime, it seems likely that the Mueller investigation will eventually and fully vindicate Randy Credico as a back channel and, if his "rich history of political activism" is any indication, we may expect to see him out there pounding the pavement for Julian Assange for as long as it takes.
Top Photo | New York radio host Randy Credico speaks to members of the media after appearing before the grand jury hearing evidence in special counsel Robert Mueller's investigation of Russian interference in the 2016 presidential election, Sept. 7, 2018, in Washington. Jacquelyn Martin | AP
Jjimmysllama is an independent researcher and writer who provides balanced, critical analysis with a focus on the Boston bombings, Magnitsky Act, and WikiLeaks.  She is currently trying to stay warm in the Midwest.  You can read more of her work at jimmysllama.com and find her on Twitter at @jimmysllama.