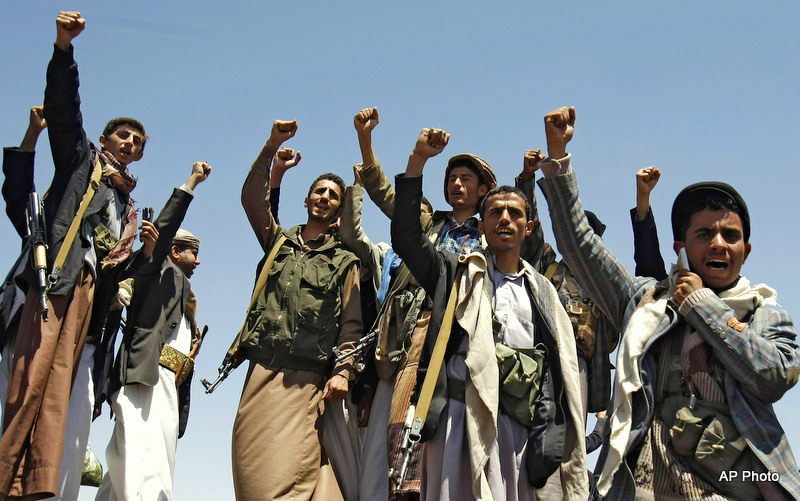 When a sweeping democratic revolutionary movement took center stage in the Middle East in 2011, the world could not help but stare in awe as dictatorship after dictatorship fell before popular will, unable to oppose people's cries for freedom any longer. Those powers the United States had tied itself to suddenly came undone, leaving behind little more than an open gap where Western interests once stood.
What began as an overwhelming desire for change, a yearning for social justice and the affirmation of civil principles was soon overshadowed by the rise of Islamists. Those countries, such as Egypt, Libya and Tunisia, which stood as flagships for the Arab Spring movement soon fell prey to Islamic radicalism, casting off any sense of nationalism.
Yet Yemen turned out to be a different revolutionary beast altogether. If, like Egypt or Tunisia, this poorest country of the Arabian Peninsula successfully ushered its very own despot, President Ali Abdullah Saleh, out of office, under the patronage of the Gulf Cooperation Council countries, its subsequent march to freedom and democracy turned out to be very different indeed from other countries in the region.
Stuck in a neverending transition of power, Yemen saw rise from a deepening power vacuum the most unlikely of political force — the Houthis of Yemen.
Since the Houthis, a formerly obscure Zaidi faction of northern Saada organized under the leadership of Abdul-Malik al-Houthi, blasted their way through Yemen's Highlands, pushing evermore against the country's most prominent and powerful political faction, Islah, the country has seen a shift in power that no politician and few analysts ever thought possible.
Very much the pariah of Yemeni politics, the Houthis have suffered many humiliations and defeats at the hands of former President Saleh's regime, forced to endure sectarian-based repression and political isolation on account of their alleged "friendship" with Iran. In fact, it was in reaction to such oppression that the tribal faction organized itself a reactionary militia under the impetus of Sheikh Hussein Badreddin al-Houthi.
Although the Houthis have managed to successfully galvanize public support, exploiting Yemenis' disillusionment toward state officials and thus positioning themselves as a valid and potent alternative to Yemen's old guard, their successes have prompted fierce media and political backlash.
The victims of their own success, the Houthis now find themselves in the eye of a propaganda storm. They face allegations of abuses of power, disproportionate violence, religious bias and corruption. Its military and political power largely diminished, Islah has chosen to strike back at its political and religious nemesis, not on the battlefield but in the press, aware that words can often cut deeper than swords.
Coming to power
The Zaidi faction — a branch of Shiite Islam — was initially born in reaction to Sanaa's bias toward Shiite Islam in 1994, when then-President Saleh called on Saudi Arabia's military and financial support to crush the Southern Yemeni secession bid. The group quickly rose above its former station on the back of the Arab Spring movement in 2011, having won its political stripes by supporting Yemen's democratic aspirations.
The blackest of all black sheep achieved a smooth transition into mainstream politics by shedding tribal ties and rebranding their message under their new political denomination — Ansarallah.
Just as Saleh's powerhouse crumbled to the ground, the Houthis were reborn as Yemen's new kingmakers, having benefited from the power vacuum created by revolutionary frictions.
The Houthis' rise to power reached a new peak in September, when the group successfully seized control over the capital, Sanaa, following a seemingly effortless armed campaign.
Prior to the group's arrival in Sanaa, the Houthis trailed across Northern Yemen, dislodging and challenging Yemen's main powerhouse, Islah — a faction that acts as a political umbrella for several groups, including the Muslim Brotherhood and Salafis — at every corner of every road. Yemen's former undesirables accomplished what no one thought possible when they defeated Islah's founding tribal family, the Ahmars, in their ancestral home of Amran, thus throwing the country's balance of power off its axis.
Endowed with a new sense of power, Abdul-Malik al-Houthi presented himself as the vessel of Yemenis' discontents, the spokesperson of the weak and the poor, the liberator of Yemen.
Blaming President Abdo Rabbo Mansour Hadi for Yemen's many troubles and fast depreciating quality of life, al-Houthi lobbied the coalition government, calling for an immediate cabinet change as well as non-negotiable fiscal reforms, including the reinstatement of oil subsidies.
Political manipulations
The relationship between Yemen's political class and the Houthis has been complicated since the group's very inception, mired in suspicion and riddled with accusations. The Houthis' religious beliefs — namely, their affiliation to Shiite Islam — have led to assumptions that they are merely political and ideological puppets of Iran, another version of the Lebanese Hezbollah. In an interview with Al-Hayat earlier this year, President Hadi openly accused Tehran of meddling with Yemen's internal affairs via Hezbollah through its support of the Houthis. Hadi slammed Tehran for attempting to engineer a political proxy and influence Yemen's future by playing the ideological puppetmaster. He also accused Iran of having encouraged a political rapprochement between al-Harak – the Southern Secessionist Movement – and the Houthis to better hold Sanaa to its sway.
While Iran's Foreign Ministry has often denied having any role in Yemen's internal affairs, Yemeni politicians and the media have remained largely unimpressed by such vows of non-interference.
Speaking to MintPress, political analyst Hani Ahmed al-Sofy explained that foreign patronage has always weighed heavy on Yemeni politics, often leading opposing factions to accuse each other of playing another's game against national interests.
"This idea that the Houthis are Iran's proxy is not new. It is the Houthis unparalleled rise to political prominence which has led state officials to revert to political slander," Sofy said.
"Just as al-Islah has been understood and described as a Saudi-sponsored proxy, the Houthis, and to an extent al-Harak, have been viewed as Iran's pawns. As for President Hadi, he's been described as Washington's man, a mediator of sorts amid a flurry of foreign influences."
War of words
If Islah were removed from its pedestal by the very men it thought to have politically, religiously and military contained, its leadership has fought back the rise of the Houthis by taking its fight to the media, accusing the group of banditry, abuses of power, embezzlement and land misappropriations, among other unsavory dealings. As noted by Haytham Othman, a researcher and political historian based in Lebanon, "In this war of words against the Houthis, many officials have joined the fight, mainly out of fear they risk to become politically irrelevant."
He noted in exclusive comments to MintPress, "It is very interesting to see that the very abuses and crimes the former regime committed against the people and political foes have been pinned on the Houthis."
Othman elaborated on his theory by pointing to recent accusations of looting and misappropriation in Sanaa against members of the Ahmar family and Gen. Ali Mohsen al-Ahmar, Yemen's former top military brass.
"When the Houthis began their cleansing campaign against al-Islah they systematically targeted the faction's business and private interests by seizing control over lands, residences and commercial enterprises. Most mediatized were the seizures of Hamid al-Ahmar [the leader of the Yemeni Alliance for Reform party] and Gen. Mohsen's houses."
He added, "While al-Islah and others rose in condemnation of such acts of banditry, to recall the words of some pro-Islahi officials, many tend to have forgotten that back in 1994, al-Ahmar and his supporters ransacked Aden, claiming for their own southerners' properties and state-owned lands, notwithstanding three decades of political profiteering and abuses of power."
Speaking from Aden, Ali Assadi, a freelance journalist, said that if the Houthis had indeed seized control over properties formerly owned by Islah's high and mighty, the militants did so in view of returning them to their legitimate owners.
"The Houthis have given back former South Yemen President Ali Salim al-Beidh's house back. His home was stolen decades ago [in 1994], when President Saleh forces crushed the southern rebellion. Since, al-Ahmars have claimed ownership over dozens of residences and lands, all of which were misappropriated. This very issue has actually driven most of al-Harak's secessionist narrative, and fed South Yemen sovereign aspirations. The lands misappropriation dossier has been a thorn in President Hadi's administration thigh since 2012," Assadi explained.
He added, "The Houthis have actually showed much restraint since their takeover in Sanaa, a quality al-Islah and Saleh never demonstrated. I think it is crucial to remain balanced and objective when assigning blame and launching accusations … the Houthis are not half as bad as the press are making them out to be, it's all manipulation and propaganda, really."
Meanwhile, Antoine Fraccas, a professor of political science, highlighted the notion that Yemen's war of words has been driven more by jockeying for power and a desire to delegitimize and denigrate one's political opponent than an ideological clash.
"Yemen's political and religious tensions and divisions do not run as deep as politicians would like the public to believe. Yemen's politics has been personality-driven; people have come to support individuals and powers, not programs or ideas. This is what is so interesting about Yemen … Divisions stem from factions' desire to control the country's resources, everything else — religion, foreign backing and even political alliances — have been used as weapons and/or rallying calls for popular support."
He also noted that no politician "can pretend to be free of faults." Further, he noted that whether it was at the hands of the the Houthis or the coalition government, abuses have been committed.
"The question is: Will the people be given a real chance to decide their political future?" he concluded.