The garage attendant looked at me with a wan smile.
"Coming from White House?" he asked. The question startled me for an instant, and then I laughed.
"Oh, no," I said. "Those days are over."
Again, the appraising glance.
"George W Bush?" His speech had the unmistakable cadence of a native Arabic speaker. How did he know when I had served? Maybe it was the conservative, Republican cut of my suit.
But my friend then turned wistful.
"Happy times," he said.
"Happy?" I thought. Did he not remember 9/11? And what about the bloody, ongoing wars in Iraq and Afghanistan? Had he forgotten all the policy mistakes, the hubris, the misjudgments? I lived through those times. I saw it all, close-up, both abroad and in the White House Situation Room. I would attach many adjectives to those years: frustrating, horrifying, disastrous. But "happy?"
And yet this fellow clearly thought so. He went on with a shrug, inclining his head in the general direction of the gang currently occupying the Executive Mansion:
"Maybe some people happy," he said. But this Arab-American was clearly not among them.
About them, not him
George W Bush, some say, is being rehabilitated. After eight-plus years of relative self-imposed obscurity, he is now emerging in public more often. It was a bit surprising to see him recently on the morning TV talk shows, promoting Portraits of Courage, a book of his own oil paintings.
A cynic might suppose that this book is the product of a guilty man, of one trying to atone for the mistakes of his past to those who suffered for them
It is an extraordinary work. The images it contains – renderings of 66 American war veterans, many bearing wounds both seen and unseen, whom the former president has come to know personally, and whose stories he tells – are rather like the artist who produced them: straightforward, frank, unadorned.
A cynic might suppose that this book is the product of a guilty man, of one trying to atone for the mistakes of his past to those who suffered for them. Some might suppose that for Bush, this purported attempt to honour American heroes is more about him than about them.
I cannot claim special insight into the mind of the former president, but from all I have seen, I feel confident in saying that any such assessment would be well wide of the mark.
Whatever else one may want to say about him, President Bush is a man transparently comfortable in his own skin, seemingly secure in the conviction that his past decisions, no matter how fateful their unintended consequences, were made in the belief that they were the right decisions at the time.
Bush appears to have an instinctive understanding that the courage, commitment, and sacrifice of those whom he honours stand entirely on their own, utterly independent of such arbitrary and fleeting measures as success, or failure. Virtue needs no endorsement; only illumination. When Bush honours veterans, it is about them, and not about him.
Excrutiating exploits
A few days ago, on 28 February, we witnessed another, very different tribute to an American soldier. As Bush's successor once removed spoke before a joint session of Congress, he paused, ostensibly to honour the memory of William "Ryan" Owens.
Owens, a Navy Seal, died in a controversial raid on an al-Qaeda compound in Yemen, just days after the recent presidential inauguration. But as is so often the case with Trump, you cannot understand what he was doing without understanding the back story.
In the fateful Yemen raid which took Owens' life, several of his comrades were also wounded, and at least 16 innocent civilians, including several children, were killed. In the days immediately following, some claimed that this operation – personally approved by Trump – had been a failure. Among them was Senator John McCain, himself a wounded combat veteran. In light of the attendant losses, the gains of the botched mission, reportedly launched to gather terrorist-related intelligence, appeared questionable at best.
Responding to such criticism, Sean Spicer, the White House press secretary who so slavishly mirrors the values of his boss, struck back in typical fashion: rather than answer the charges on their merits, he changed the subject, and then took the conversation to a place where no one present would dare to follow:
Describing the raid as a "huge success", he stated that "…anybody who undermines the success of that raid owes an apology and [commits] a disservice to the life of Chief Owens".
What utter, mendacious nonsense. As though the honour of a fallen warrior is determined by what may, or may not, happen to have been recorded on a terrorist hard-drive.
In his speech, Trump doubled down on the perfidious comments of his spokesman: quoting Defense Secretary James Mattis, he stated: "Ryan was part of a highly successful raid…that will lead to many more victories in the future against our enemy."
It was painful to watch what followed, as Owens' young widow, raw and figuratively naked in her grief, sobbed almost uncontrollably while the audience gave her a standing ovation.
Most, one hopes, clapped for the right reasons. But it was excruciating to see a brave young woman being cynically exploited in service to the ego of a petty, small-minded, thin-skinned politician trying to defend his record.
All that remains
It has been said that in the end, all we have is character. Long after the cheers and critiques can no longer be heard, when the victories and defeats have faded into insignificance, what remains is character.
The universe laughs at our petty conceits, but when we think back to the great souls of the past, to Socrates or Lincoln, to Churchill or De Gaulle, to Gandhi or Mandela, it is not so much their achievements we revere, but what stood behind them – their courage, their nobility, their human decency: in short, the content of their character.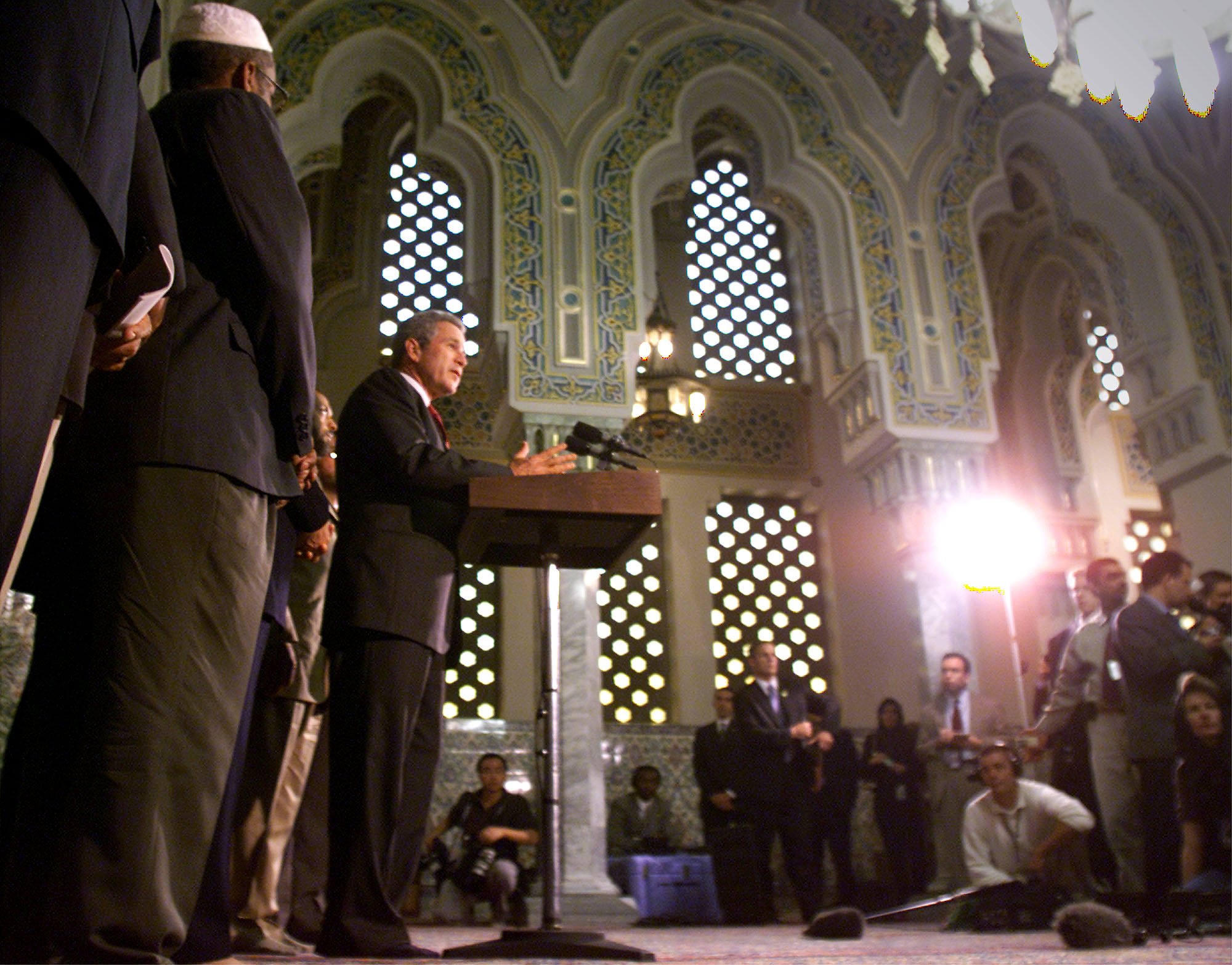 That is perhaps why, when a certain Arab-American thinks today of George W Bush, it is not a flawed presidency that comes to mind, but the moral courage which motivated a leader to stand inside a mosque and to defend Muslim-Americans, and indeed Islam itself, while the twin towers still smoldered.
If, as we approach the 14th anniversary of the invasion of Iraq, George Bush is being "rehabilitated" today, perhaps that is part of the reason why.
One wonders, by contrast, what will be remembered of Donald J Trump four, or 40, or 400 years from now.
One wonders.
Robert Grenier is a writer and speaker focused on foreign affairs, the Middle East and counterterrorism. A former director of the CIA's counterterrorism center, he spent 27 years as an operative in the CIA's Clandestine Service. His memoir, 88 Days to Kandahar: A CIA Diary, was published in 2015 by Simon & Schuster.  He writes for Middle East Eye, where this editorial first appeared.