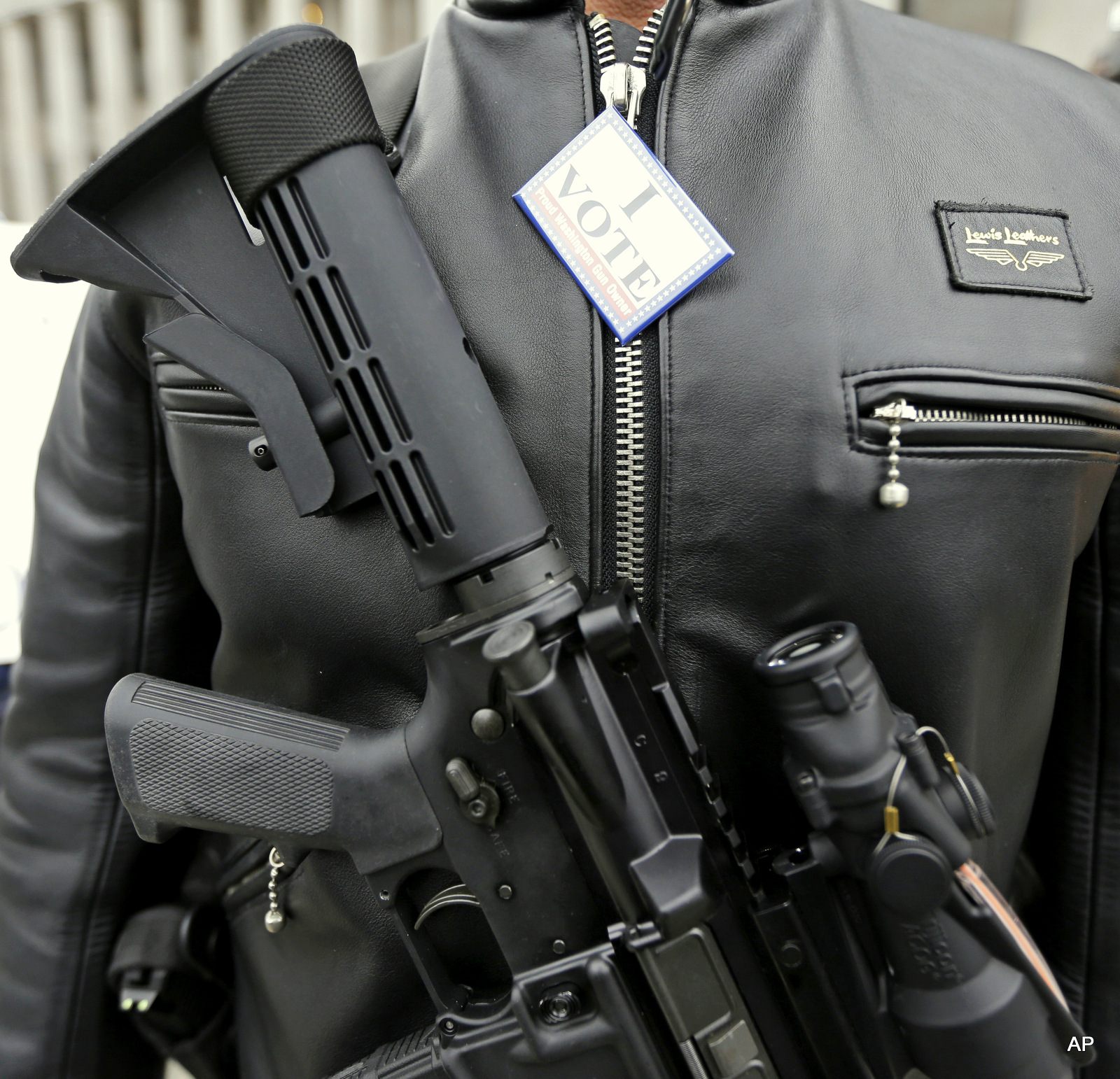 With fears of impending violence mounting on the eve of the Republican National Convention, the head of Cleveland's largest police union called for Ohio Gov. John Kasich to temporarily ban the open carrying of guns as crowds of protesters and politicians arrived in town before the Republican National Convention.
Stephen Loomis, president of Cleveland Police Patrolmen's Association, told CNN that he planned to send a letter to Kasich requesting immediate executive action. The demand arrives on the heels of two shootings that left five law enforcement officers dead in Dallas earlier this month and three officers dead in Baton Rouge on Sunday.
After the July 7 attack in Dallas, officials said that they struggled to distinguish between people lawfully carrying long guns in the open and a gunman who was targeting police — spawning confusion and leading authorities to misidentify at least one armed protester as a suspect in the deadly shooting rampage.
"We are sending a letter to Governor Kasich requesting assistance from him," Loomis told CNN. "He could very easily do some kind of executive order or something — I don't care if it's constitutional or not at this point. They can fight about it after the RNC, or they can lift it after the RNC, but I want him to absolutely outlaw open-carry in Cuyahoga County until this RNC is over."
A spokeswoman for Kasich said Sunday that the governor could not suspend open carry at the convention.
"Law enforcement is a noble, essential calling and we all grieve that we've again seen attacks on officers," the spokeswoman, Emmalee Kalmbach, said in a statement. "Ohio governors do not have the power to arbitrarily suspend federal and state constitutional rights or state laws as suggested. The bonds between our communities and police must be reset and rebuilt — as we're doing in Ohio — so our communities and officers can both be safe. Everyone has an important role to play in that renewal."
According to a guidebook released by the office of Ohio Attorney General Mike DeWine, "Ohio's concealed carry laws do not regulate 'open' carry of firearms. If you openly carry, use caution."
The document, which focuses on the state's concealed-carry law, adds, "The open carry of firearms is a legal activity in Ohio."
The Secret Service said months ago that guns will not be allowed within the convention security perimeter that surrounds Quicken Loans Arena, noting in a March statement that "only authorized law enforcement personnel working in conjunction with the Secret Service for a particular event may carry a firearm inside of the protected site."
But gun owners who are legally allowed to carry firearms will be permitted to do so within the convention's larger "event zone" — an area that is 1.7 square miles.
Among those planning to bring firearms to rallies in Cleveland is the New Black Panther Party. 
Last week, the group's chairman, Hashim Nzinga, told the Reuters news agency that members plan to carry firearms as a means of self-defense.
"If it is an open state to carry, we will exercise our Second Amendment rights because there are other groups threatening to be there that are threatening to do harm to us," Nzinga told Reuters. "If that state allows us to bear arms, the Panthers and the others who can legally bear arms will bear arms."
Supporters of presumptive Republican presidential nominee Donald Trump also are expected to walk the streets of downtown Cleveland bearing arms, Reuters reported.
Read more:
Cleveland police union calls for ban on 'open carry' as fears of violence mount ahead of RNC