Neil Gorsuch's Hearing Revealed Disturbing New Facts About Guantanamo
Published in partnership with Shadowproof. Supreme Court nominee Neil Gorsuch was confronted over the fact that he disparaged Guantanamo lawyers and expressed regret during his confirmation hearing. But while Gorsuch made this statement, he did not address equally troubling claims about Guantanamo lawyers fabricating claims of abuse and torture. Senator Dick Durbin asked Gorsuch, who served as principal deputy to the associate attorney general in President George W. Bush's administration, about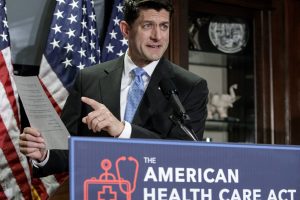 GOP's New Health Care Plan Will Harm America's Most Vulnerable
The GOP recently released the details of its proposed replacement for the Affordable Care Act -- and its plans for the country's health care system are nothing less than terrifying. Many of the nation's poorest citizens would see their health care offerings shrink in another typical attempt by the Republican Party to prey on the less fortunate.
The True Legacy Of David Rockefeller
While often remembered for his philanthropy, the last surviving grandson of America's first billionaire died today, leaving behind a dark legacy indicative of how American nobility often shape policy from behind the scenes.