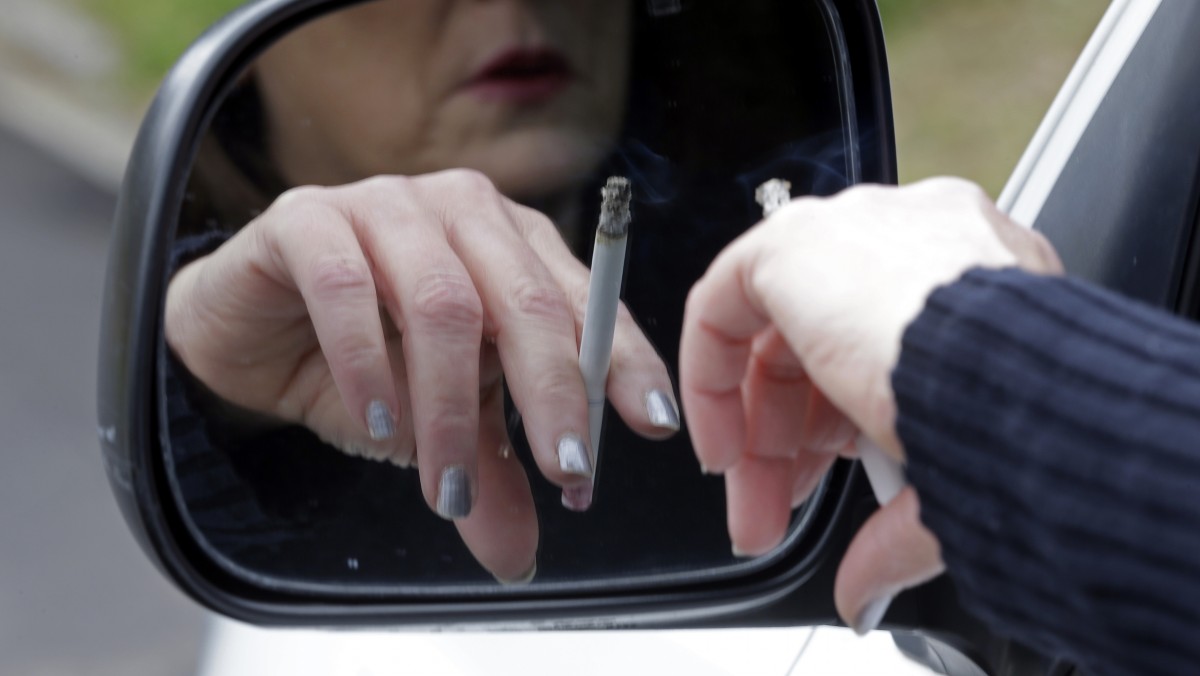 Fifty years ago, the U.S. surgeon general tied tobacco to lung cancer for the first time. Since then, additional scientific research has linked smoking with a host of other health issues, and efforts to publicize those harmful side effects helped spur a historic decline in the number of Americans who regularly smoke. Nonetheless, more than 42 million adults remain addicted to cigarettes, and the head of the Centers for Disease Control and Prevention (CDC) says that tobacco is still the greatest public health challenge of our time.
Why is tobacco still at the top of the CDC's list? Why haven't we moved past this yet? Largely because cigarette manufacturers have worked hard to keep their products relevant even in the midst of aggressive public health campaigns to crack down on smoking, according to a new report released on Monday by the Campaign for Tobacco-Free Kids.
The cigarettes sold today are quite different from the cigarettes that were on the market five decades ago, according to the new report, and that's because tobacco companies have done extensive research to figure out how to make smoking appealing for new customers. They've essentially made it easier to get hooked on their products by increasing the levels of nicotine — the addictive chemical in cigarettes — and using new additives to help enhance nicotine's impact. They've also added flavoring, sugars, and menthol to mask the effect of inhaling smoke, ultimately hoping that will make it more pleasurable to use cigarettes:
"Most people would think that 50 years after we learned that cigarette smoking causes lung cancer, cigarettes would be safer. What's shocking about the report we issued today is that we've found that a smoker today has more than twice the risk of lung cancer than a smoker fifty years ago, as a direct result of design changes made by the industry," Matt Myers, the president of the Campaign for Tobacco-Free Kids, said in an interview with ThinkProgress.
On top of that, Myers' organization notes that these corporations have made calculated moves to create the next generation of smokers, according to internal marketing documents from tobacco companies that have been made public as a result of litigation against them. Brands like Marlboro, Newport, and Camel have specifically worked to attract younger customers in order to remain viable, citing statistics that most regular smokers pick up the habit before they turn 18.
Most people know that cigarette makers have historically worked to target young people with their advertising. Indeed, before increased regulation attempted to rein in this practice, it used to be even more explicit than it is now. For instance, the R. J. Reynolds Tobacco Company infamously used the cartoon character Joe Camel to help sell their cigarettes in the 1990s, a practice that mobilized anti-tobacco advocates to fight hard against marketing aimed at younger Americans.
But the new report finds that tobacco companies have actually gone even further to woo teens. The R.J. Reynolds Tobacco Company didn't just rely on its camel; it also looked to change its cigarettes to appeal to a younger demographic. "Two key areas identified for improvement were smoothness and sweetness delivery. Smoothness is an identified opportunity area for improvement versus Marlboro, and sweetness can impart a different delivery taste dimension which younger adult smokers may be receptive to," a 1985 product development plan for the company noted.
"We would have thought, with the tobacco industry claiming they don't market to kids, that they wouldn't be making design changes that increase the number of our kids who smoke," Myers said. "But they have, quietly and behind the scenes."
The Campaign for Tobacco-Free Kids' report was released to coincide with the five year anniversary of the Family Smoking Prevention and Tobacco Control Act, historic legislation that gave the FDA power to regulate tobacco products and marketing efforts. At the time, that measure was hailed as the "toughest anti-tobacco bill in American history" — and Myers' group wants the government to use it to undo some of the changes that have been made to cigarettes over the past several decades.
"At a very minimum, the FDA should act swiftly to require the tobacco industry to reverse all the steps they've taken to make these products more dangerous, more addictive, and more appealing to our kids," Myers said. "I think this report tells us that the tobacco industry has not reformed over the last 50 years."